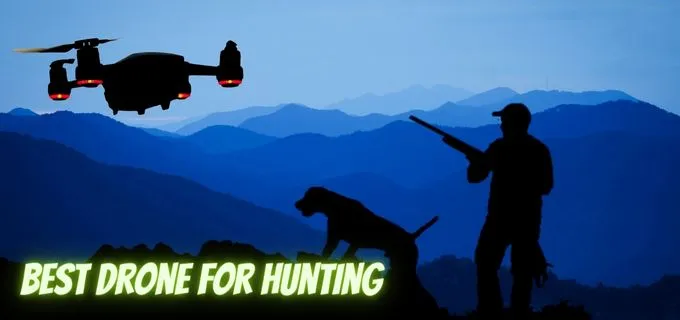 In the age of technological advancement, a new dawn is breaking over the traditional hunting landscapes. The once solitary hunter, relying solely on instinct and primal tools, now has a futuristic ally – the drone. These hunting drones, with powerful cameras and advanced tracking systems, are revolutionizing how we hunt, making them more efficient, strategic, and safe.
Best Drone For Hunting
But the question arises – with many drones on the market, which one is the best fit for hunting? The answer could be more straightforward, as different drones offer diverse capabilities, and the perfect choice depends on your specific needs, hunting style, and budget.
In this article, we'll explore some of the top contenders in the drone market, from the versatile Parrot Anafi, known for its exceptional tracking capabilities, to the budget-friendly Potensic D85 and the DJI Mavic 2 Pro, a favorite among hog hunters. We will also explore thermal imaging with the DS550 and DS900 and assess the Autel Robotics EVO II and RUKO F11 drone.
We'll dissect each drone, assessing its features, pros, cons, and suitability for hunting, to provide you with the most comprehensive guide to choosing the best drone for your hunting expeditions.
Related Article: Best Drones for Fishing With Bait Release
How Drones are Useful for Hunting
Over the past few years, drones have significantly transformed the hunting landscape, adding a new level of strategy, efficiency, and safety. Here's a breakdown of how drones are proving to be invaluable tools for hunting:
Scouting and Surveillance: One of the most significant advantages of using a drone for hunting is its ability to quickly and efficiently scout large land areas. Drones equipped with high-resolution cameras can provide detailed, bird's-eye views of the terrain, helping hunters spot games, identify trails, and study animal behavior from a safe distance.
Tracking Game: Advanced drones have tracking features that can lock onto and follow a specific target, making it easier for hunters to track the game. It can be beneficial when tracking fast or elusive animals or wounded games.
Night Hunting: Drones equipped with thermal imaging cameras are highly advantageous for hunting in low-light conditions or at night, as they can effectively detect the heat signatures of animals. This feature makes them exceptionally useful in enhancing hunting capabilities during these challenging environments. It can be particularly effective for hunting nocturnal species or controlling populations of invasive species, such as feral hogs.
Safety and Accessibility: they enhance safety and Accessibility, allowing hunters to safely reach difficult, dangerous, or inaccessible areas such as dense forests, cliffs, or marshy lands.
Reducing Impact on Wildlife: A drone can help reduce the impact on wildlife by minimizing disturbances, as drones can be used for initial scouting and location of the game, reducing the need for physical intrusion into animal habitats.
Planning and Strategy: By providing real-time or recorded footage of the hunting terrain and the game location, drones can help hunters plan their approach and strategy more effectively. It can increase the success rate and efficiency of hunts.
Best Hunting Drones
Whether you're a seasoned hunter looking to add a tech edge to your hunts, or a drone enthusiast curious about their applications in hunting, this exploration is for you. Let's embark on this journey and discover how the fusion of tech and tradition reshapes the hunting landscape.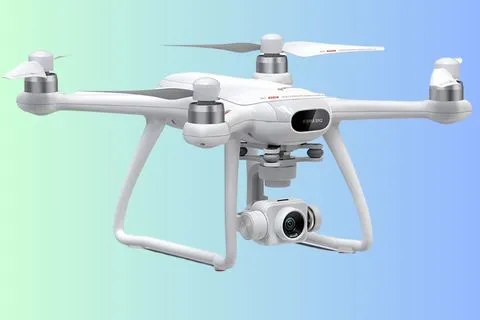 1. Potensic Dreamer 4K Pro Drones
SPECIFICATIONS
Operating temperature: | 0°to 40° Included: | 32GB SD card Video Capture Resolution: | 4k
REASONS TO BUY
✓Budget-friendly option
✓2K camera for decent image quality
✓Flight time: 28 minutes
✓Reasonable control range of 2km
✓GPS-assisted flight features, including return home function
REASONS TO AVOID
✗Lack of advanced tracking features
The Potensic Dreamer shines as a beacon for hunters on a budget. While it may not boast the high-end features of some of its counterparts, it offers a balanced blend of performance, durability, and affordability, making it an appealing choice for cost-conscious hunters.
Notably, the Potensic drone excels in its flight capabilities. With a flight time of up to 28 minutes and a control range of 2KM, it allows for extensive exploration of your hunting ground.
However, the drone does have its limitations. Its camera cannot tilt, restricting its field of view. Additionally, it needs advanced tracking features, making it more suitable for tracking fast-moving animals. Yet, considering its price point, the Potensic drone offers impressive value for money. For those new to hunting with drones or those operating on a tight budget, the D85 is a reliable and cost-effective option that delivers where it counts.
Comparison with the Old model:
The Potensic Dreamer 4K Pro Drones has several improvements over the D80. It features a superior 4K camera for better image quality and detail. The battery life is also improved, offering up to 28 minutes of flight time compared to the D80's 20 minutes. Moreover, the Potensic Dreamer Pro Drones have a more robust build quality.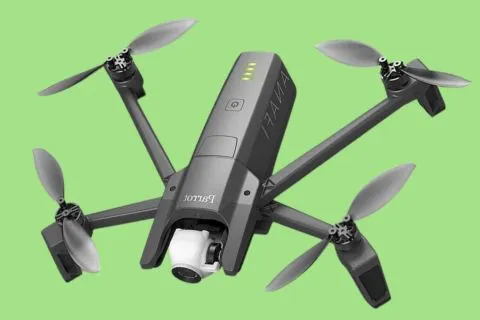 2. Parrot Anafi Drone
SPECIFICATIONS
Flight Time: | 25 minutes Resolution: | 4K UHD 2160p Camera: | 21 MP Weight: | 1.56 Pounds Operating Temperature: | -10°C to 40°C
REASONS TO BUY
✓Exceptional tracking capabilities
✓4K HDR camera with 2.8x lossless zoom
✓25 minutes flying time  
✓Foldable and portable design
✓Advanced Automatic subject tracking
REASONS TO AVOID
✗Susceptible to instability in windy conditions due to its lightweight build
✗Lack of obstacle detection can be a concern for novice pilots
The Parrot Anafi drone is hard to ignore when discussing the best hunting drones. This compact, foldable drone, known for its exceptional tracking capabilities, brings a new level of sophistication to hunting, transforming how you track, monitor, and plan your hunting expeditions.
Camera Quality:
The Anafi's standout feature is its 4K HDR camera, mounted on a 180-degree tilt gimbal, offering unprecedented visuals of the hunting terrain. The drone's advanced capabilities shine through its remarkable 2.8X lossless zoom functionality.
This feature allows the pilot to maintain a safe distance while capturing stunningly clear and detailed imagery of the targeted prey, ensuring both safety and high-quality visuals.
Flight Time:
Moreover, it boasts an impressive flight time of up to 25 minutes, allowing for extended scouting missions. Its advanced tracking features, including automatic subject tracking and geofencing, ensure you keep sight of your target.
However, every product has its shortcomings. While advantageous for portability, the Parrot Anafi's lightweight can make it susceptible to instability in windy conditions. Additionally, its lack of obstacle detection might concern novice pilots.
But the Parrot Anafi is undoubtedly a strong contender when it comes to hunting. With its robust camera, extended flight time, and advanced tracking capabilities, the drone is exceptionally well-suited for hunting purposes.
Parrot Anafi vs Parrot Bebop 2 (Comparision With Previous Model):
The Anafi is a significant upgrade over the Bebop 2. It introduces a 4K HDR camera with 2.8x lossless zoom, a feature absent in the Bebop 2. The Anafi also boasts a longer flight time, better range, and a more compact design with a foldable structure for easy transportation and monitoring wildlife, adding a new dimension to your hunting experience.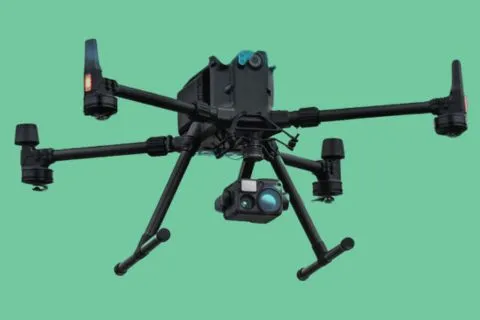 3-DJI Matrice 300 RTK- Top Thermal Drones for Hunting
SPECIFICATIONS
Range: | 15KM : | UAV Health System Flight Time: | 55 Minutes Operating Temperature: | 20'C to 50'C
REASONS TO BUY
✓Powerful 4K camera with a larger 1-inch CMOS sensor 
✓31 minutes Extended flight time
✓Advanced features like Hyperlapse and improved ActiveTrack
✓OcuSync 2.0 transmission system for stable and long-range control
✓Omnidirectional obstacle sensing for enhanced flight safety
REASONS TO AVOID
✗Higher price compared to some other models
✗Does not have thermal imaging capabilities
The DJI Matrice 300 RTK is a top-of-the-line commercial-grade drone specifically optimized for professional hunting applications.
Its standout feature is the DJI Zenmuse H20T camera, a quad sensor with a 20-megapixel zoom lens, a 12-megapixel wide camera, a laser rangefinder, and a radiometric thermal camera. The thermal camera can detect heat signatures from significant distances, giving hunters an edge when scouting for a game.
Range & Flight Time:
The Matrice 300 RTK offers an impressive flight time of up to 55 minutes and a transmission range of 15 kilometers, providing extended operation capabilities and seamless control for hunting missions. This drone also features advanced AI capabilities, such as AI Spot-Check and Smart Track, which allow it to recognize and follow moving subjects accurately.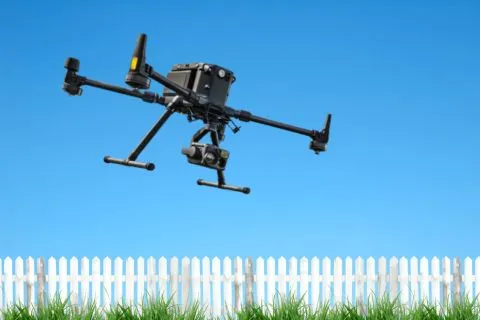 Furthermore, its 6 Directional Sensing & Positioning system offers robust flight safety, making it ideal for complex and diverse terrains.
Capture Live Missions:
Effortlessly document vital mission activities such as aircraft movement, gimbal orientation, photo capture, and zoom adjustments. Utilize these recorded actions to create sample mission files, facilitating automated inspections in the future.
AI Spot-Check & Waypoints
Unleash the power of automation in routine inspections, guaranteeing consistent and dependable outcomes. The onboard AI seamlessly identifies subjects of interest, ensuring unwavering framing in subsequent automated missions. Tailor flight paths with remarkable precision, utilizing up to 65,535 waypoints, and configure multiple actions for payloads, including third-party choices. Optimize flightpath planning to achieve unparalleled flexibility and efficiency, guaranteeing flawless mission execution on every occasion.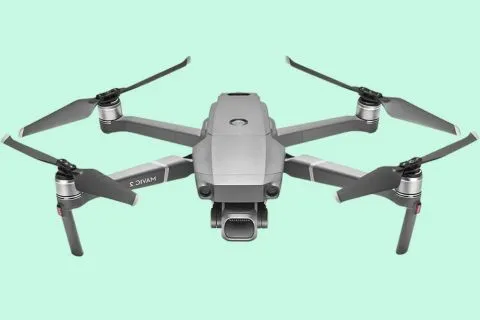 4. DJI Mavic 2 Pro
SPECIFICATIONS
Flight time: | 31 minutes Max speed: | 44 mph Weight: | 907G  Internal storage: | 8GB SD Card Supported: | 128 GB
REASONS TO BUY
✓Up to 30 minutes Flight time
✓20 Megapixel Camera
✓Can spot heat-emitting bodies at night
REASONS TO AVOID
✗Expensive
The DJI Mavic 2 Pro is a favorite amongst hunting enthusiasts and for good reason. This drone is robust, feature-packed, and explicitly excels in one hunting area: hog hunting. This niche has embraced drone technology to tackle the challenges associated with tracking and managing the population of this fast-breeding, nocturnal species.
The DJI Mavic 2 Pro features a top-of-the-line Hasselblad L1D-20c camera that captures stunning 20-megapixel aerial shots in incredible color detail. This level of visual clarity makes spotting and tracking games me a breeze. Moreover, with its adjustable aperture, the Mavic 2 Pro performs exceptionally well in various lighting conditions, even at dusk or dawn when hog activity is at its peak.
Flight Features:
The Mavic 2 Pro also offers an impressive flight time of up to 31 minutes. It boasts an omnidirectional obstacle-sensing system, significantly reducing the risk of collisions, which is especially useful when focusing on the tracking game rather than the drone's flight path.
Verdict:
Nevertheless, this drone's exceptional quality comes with a higher price tag, placing it among the more expensive choices available. Also, while its low-light performance is impressive, it doesn't offer thermal imaging, which could be a more effective tool for spotting heat-emitting bodies at night.
Despite these considerations, the DJI Mavic 2 Pro stands out as a top performer for hog hunting.
The drone's impressive camera, advanced safety features, and excellent fly time make it a valuable investment for dedicated hunters.
DJI Mavic 2 Pro vs. DJI Mavic Pro:
The Mavic 2 Pro is a notable improvement over the original Mavic Pro, boasting a larger 1-inch CMOS sensor that enhances image quality and low-light performance. It also came with advanced features like Hyperlapse and enhanced ActiveTrack for improved subject tracking.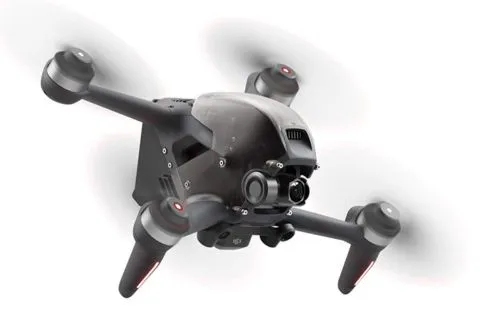 5. DJI FPV Combo Drone
SPECIFICATIONS
Resolution: | 2160P Weight: | 28.04 Ounces Video: | 4k : | FPV Racing Drone
REASONS TO BUY
✓Immersive first-person-view (FPV) flying experience
✓4K/60fps camera for stunning video quality
✓High-speed capabilities and responsive controls
✓Stable feed to goggles with OcuSync 3.0 transmission system
REASONS TO AVOID
✗Shorter flight time of approximately 20 minutes
✗Steeper learning curve due to the FPV experience
✗Limited applications for hunting compared to other models
The DJI FPV Combo offers a hunting experience like no other. This drone provides a first-person view (FPV) through goggles, immersing the operator in the heart of the action. It is particularly thrilling for hunters who want to experience the chase from a bird's eye view.
Camera:
The 4K/60fps camera on the DJI FPV records crystal-clear video, delivering a breathtaking perspective of the hunting terrain. The super-wide 150° field of view also ensures you capture more action in each frame.
Speed:
With a top speed of 87 mph and a 0 to 60 mph time of just 2 seconds, this drone can keep up with fast-moving wild. Its advanced "OcuSync 3.0" transmission system also ensures a stable feed to your goggles even at high speeds.
Emergency Brake
With a button press on the remote controller during flight, the drone gracefully halts, effortlessly maintaining a stable hover within seconds.
However, with great power comes great responsibility. The FPV experience can be quite intense and requires practice to master. Additionally, the DJI FPV has a relatively short flight time of approximately 20 minutes, which may limit its use in extended hunting sessions.
Despite these considerations, if you're seeking a thrilling, immersive hunting experience and are prepared for a learning curve, the DJI FPV Combo is a top choice.
DJI FPV Combo vs. DJI Mavic Air 2:
While both these models serve different purposes, the FPV Combo introduces a first-person view (FPV) flying experience not found in the Mavic Air 2. It also boasts higher speed capabilities and a "manual" mode for advanced pilots.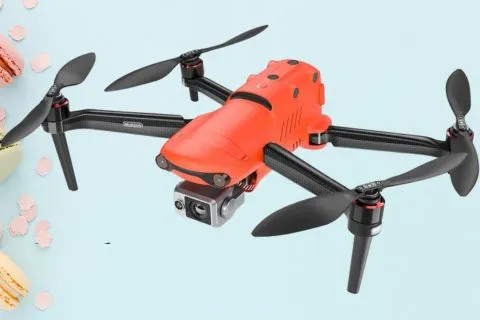 6. Autel Robotics EVO II Dual 640T Enterprise
SPECIFICATIONS
Resolution: | 640p, 7680×4320 resolutions, 16x digital zoom Weight: | 2.51 Pounds : | Obstacle Avoidance Flight Time: | 42Mins Camera: | 48MP
REASONS TO BUY
✓Cutting-edge thermal imaging sensor 
✓Camera with 8K and 4K HDR video
✓Autel Smart Controller 
✓Advanced color display technology
✓long flight time
✓720° obstacle avoidance
REASONS TO AVOID
✗High price 
✗The complexity of features may require a learning curve for beginners.
✗A limited operating temperature range 
The Autel EVO II Dual 640T Enterprise is an advanced thermal imaging sensor revolutionizing thermal sensing technology. Its remarkable resolution of up to 640×512@30 fps, 13mm lens, and 16x digital zoom outperforms competing sensors in its category. It excels at subject recognition up to 100 meters away, providing exceptional clarity and detail in low-light situations.
Camera
Featuring an 8K video and 4K HDR video, a 48MP camera, and 7680×4320 resolution capabilities, the visible camera of the EVO II Dual 640T captures even the tiniest details with remarkable precision. Its 16x digital zoom and four times lossless zoom ensure outstanding image clarity.
The EVO II Dual 640T Enterprise provides flexible temperature measurement options through its integrated infrared sensors and fast processors. Professionals can effortlessly capture temperature data for various applications using Spot/Regional/Central/Temperature Alarm/Isotherm/Image Enhancement modes.
Smart Controller
The Autel Smart Controller enhances the drone experience with its advanced color display technology and a 7.9-inch touch screen. With a resolution of 2048×1536 and an impressive maximum brightness of 2000nit, four times brighter than regular mobile devices, the controller provides a superior viewing experience. It is also compatible with other Autel EVO II series drones.
Tailored for professionals, the EVO II Dual 640T Enterprise can be customized with additional accessories such as Strobe, RTK, Spotlight, and Loudspeaker (except RK) to meet specific demands. With an operating temperature range of -10℃ to 40℃, it is suitable for various industries, including firefighting, construction, public safety, search and rescue, traffic supervision, and mapping.
Combining an optimized power system and a carbon fiber structural design ensures exceptional flight performance for this drone. It offers an impressive flight time of 42 minutes, a maximum flying speed of 44 mph (72 km/h), and can withstand winds up to 38 mph (17 m/s), ensuring an unparalleled flying experience.
The Autel EVO II Dual 640T Enterprise has 720° obstacle avoidance and predictive target tracking capabilities. Utilizing 19 sets of sensors, it effortlessly navigates around obstacles, creates three-dimensional maps, and effectively avoids collisions.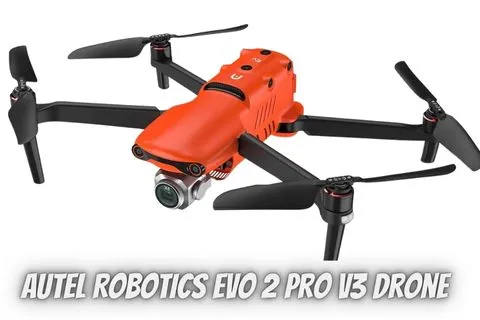 7. Autel Robotics EVO 2 Pro V3 Drone
SPECIFICATIONS
Video Resolution: | 6k Weight: | 1191 G Battery: | 7100 Milliamp Hours Flight time: | 40min
REASONS TO BUY
✓Large 8K camera for high-resolution imagery
✓Extended flight time of up to 40 minutes
✓Advanced obstacle avoidance system for improved safety
✓Reliable performance and durability
REASONS TO AVOID
✗Higher price Tag
✗Does not have thermal imaging capabilities
The Autel Robotics EVO II is a powerhouse in hunting drones. This robust drone has features that make it a versatile tool for any hunting expedition. From its impressive camera to its rugged design, the EVO II is built to perform in various environments.
The EVO II sports a 6K camera that captures high-resolution images and videos, ensuring you won't miss any details when scouting your hunting terrain. The superior camera of the EVO II simplifies game spotting and tracking from a distance.
Flight Time:
Its impressive flight time is one of its standout features. This drone can stay airborne for up to 40 minutes and cover large areas without the need for frequent landings and battery changes.
Obstacle Avoidance & Dynamic Track
The EVO 2 V3 drone from Autel Robotics is equipped with advanced obstacle avoidance technology, consisting of 12 computer vision sensors, 2 sonar sensors, and 2 LED landing lights, collectively ensuring safer navigation. It also includes the Dynamic Track 2.1 function, allowing it to simultaneously map the location and speed of targets, predict their path accurately, and track up to 64 objects concurrently in three different modes.
Nevertheless, the advanced features of the EVO II come at a higher cost, placing it among the more expensive choices on the list. Furthermore, its size and weight make it less portable compared to some other models.
Despite these drawbacks, the Autel Robotics EVO II stands out as a top choice for those who need a reliable, high-performing hunting drone and don't mind investing a bit more for quality.
Autel Robotics EVO II vs. EVO lite:
The EVO II comes with a larger 8K camera compared to the 4K camera of the EVO I. It also has a longer flight time of up to 40 minutes compared to the 30 minutes of EVO I. Additionally, the EVO II offers a more advanced obstacle avoidance system.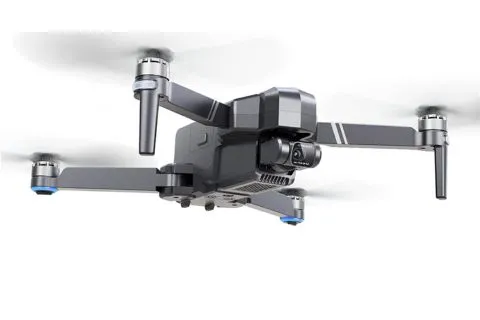 8. Ruko F11GIM2 4B Drone
SPECIFICATIONS
Camera: | 4K UHD 2160p Weight: | 1.23 Pounds GPS: | Auto Return Home flight time: | 112 Min Range: | 3km
REASONS TO BUY
✓An affordable option for budget-conscious hunters
✓4K UHD camera for good image quality
✓Good flight time 
✓GPS-assisted flight features for improved control and safety
REASONS TO AVOID
✗Limited advanced features, particularly in tracking
✗It may not offer the same performance as higher-end drones
Rounding out our list is the RUKO F11 drone. This option is excellent for individuals seeking a blend of performance and affordability. It may not offer the high-end features of other drones on this list, but it delivers solid performance where it counts.
Camera:
The F11 has a 4K UHD camera that captures clear and detailed images, making it easier to spot and track the hunt.
Flight Time:
The F11GIM2 quadcopter offers an impressive 112-minute flight time due to its four intelligent flight batteries. This robust device features a solid brushless motor and superior wind resistance for optimal stability. With a rechargeable battery equipped with overcharge and discharge protection, a foldable design and a portable carrying bag, it's an ideal choice for convenient and worry-free travel.
The drone also features GPS-assisted flight features, including a return home function, ensuring it can safely and automatically return to its launch point.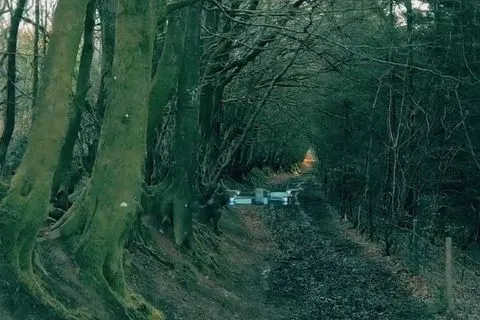 The major downside of the RUKO F11 is that it lacks advanced tracking features. While it's great for scouting areas and spotting a hunt, there may be better choices for tracking fast-moving animals over long distances.
Nevertheless, for its price point, the RUKO F11 offers excellent value for money. It's a great choice for those new to using drones for hunting or those looking for a more affordable drone that still delivers good performance.
Ruko F11GIM2 4B Drone vs Ruko F11GIM2 3B
The primary distinction between the Ruko F11GIM2 4B and 3B drones is the number of intelligent flight batteries included, with the 4B version having an extra battery, thus allowing for a longer flight time. Both models offer robust features such as a sturdy brushless motor, level-six wind resistance, overcharge, and discharge protection, a foldable design, and a carrying bag. The 4 B's extended flight time could benefit users needing longer operational durations.
Key Requirements for a Hunting Drone
Selecting the right drone for hunting requires considering several key factors to ensure that it meets the unique demands of the activity. Here are some key requirements to look for when choosing a hunting drone:
Camera Quality:
A high-quality camera is crucial for spotting and tracking games during hunting expeditions. It is recommended to seek a drone with a high-resolution camera capable of capturing detailed images and videos. This ensures that the drone can effectively assist in identifying and monitoring the game with clarity and precision. Features like zoom capability and a wide view field can also benefit.
Thermal Imager on a Gyro-Stabilized Suspension:
A thermal imaging camera can be a game-changer for night hunting or hunting in low-light conditions. This feature enables the detection of animals' heat signatures, significantly facilitating their visibility in low-light or dark conditions. This capability makes identifying and locating animals easier, even when visibility is limited.
A gyro-stabilized suspension system can compensate for any movements or vibrations, providing a smoother and more stable video feed. The ability to control this suspension from the remote control adds a layer of convenience and flexibility, allowing you to adjust the camera's orientation in real time based on your needs.
Flight Time:
Hunting often involves long periods in the field, so a drone with long battery life and flight time is crucial. The longer the drone can stay in the air, the more ground you can cover.
A drone with a flight time of over 30 minutes is advantageous for hunting. This reduces the need for frequent battery changes and allows you to spend more time focusing on the hunt and less time managing the drone's battery life.
Range:
The drone should have a sufficient control range to allow you to scout large areas. The range refers to how far the drone can fly from the controller while maintaining a stable connection.
A drone with a control range of at least 5 km is desirable for large hunting grounds. This ensures that the drone can scout a large area and track the game over long distances without losing connection with the controller.
Durability and Weather Resistance:
Hunting can occur in various environments and weather conditions, so the drone must be built to withstand these conditions. Look for drones made from durable materials and with some degree of weather resistance.
GPS & Tracking Features:
Advanced drones have tracking features that can automatically follow a target. A drone displaying GPS coordinates on the pilot's screen can be extremely useful in hunting.
This feature allows you to quickly and accurately share the location of a spotted target with other group members. It also helps you navigate back to a specific location or find your drone if it lands or crashes unexpectedly.
Ease of Use:
The drone should be easy to control, with an intuitive controller and user-friendly software. Some drones also offer automatic takeoff and landing features, which can be useful for beginners.
Safety Features:
Features like obstacle avoidance, automatic return home, and geofencing can protect your drone from collisions and loss, providing a safer and more reliable flight experience.
Quiet Operation:
A loud drone can scare off the hunt, so look for a drone that operates quietly to minimize disturbance to wildlife.
High Landing Gear and Compact Design:
A compact drone with high landing gear is ideal for hunting in areas with tall grass or uneven terrain. The high landing gear ensures the drone can take off and land without getting tangled in grass or debris.
Maintenance-Free:
A hunting drone should ideally require minimal maintenance. Drones with robust build quality and reliable components can withstand the rigors of outdoor use and require less upkeep, saving you time and effort in the long run.
By considering these additional features alongside the previously mentioned requirements, you can ensure that the drone you choose is well-suited to hunting and convenient and efficient to use.
Tips for Using Drones for Hunting
Scouting: Use your drone to scout the area before you go hunting. Look for signs of the wild animal, such as water sources, food sources, and trails.
Practice: Drones require skill to operate. Practice flying your drone in a safe, open area to get comfortable with the controls.
Respect Wildlife: Keep a respectful distance from animals to avoid causing them to stress or changing their natural behavior.
Weather: Be aware of the weather. High winds, rain, and snow can affect your drone's performance or even damage it.
Battery Life: Always monitor your drone's battery life. Ensure you have enough power to return the drone to you before the battery runs out.
Ethical Considerations and Legalities
While drones offer significant advantages as hunting tools, it is crucial to consider the ethical implications of their use carefully. Some argue that using drones for hunting can take away from the skill and sport of hunting. There are also concerns about potential harassment of wildlife. Always use drones responsibly and aim to minimize disturbance to animals.
Remember, laws about using drones for hunting vary by location. In some areas, using drones for hunting or scouting games during specific periods around hunting seasons is illegal.
Frequently Asked Questions
Do drones help with hunting?
Yes, drones can significantly enhance hunting by providing aerial scouting, tracking game, planning strategies, and ensuring safety. They can cover large areas quickly, spot game with their high-quality cameras, and even track game movement with advanced tracking features. Thermal imaging drones can also make night hunting easier by spotting heat signatures.
What is the best drone for wooded areas?
A drone with obstacle avoidance and precise maneuverability is key for wooded areas. The DJI Mavic 2 Pro, with its advanced obstacle sensing and avoidance systems, is a good choice. The compact size of the Parrot Anafi also allows it to navigate through tight spaces, making it suitable for wooded areas.
Do drones carry weapons?
Consumer drones are not designed to carry weapons, and it's illegal to weaponize them in many jurisdictions. However, some military drones are designed to carry and deploy weapons. 
Are deer afraid of drones?
Deer, like many animals, can be startled by the unfamiliar noise and movement of drones. However, the reaction can vary depending on the deer's previous exposure to drones and their natural temperament. It's recommended to operate drones at a reasonable distance to minimize disturbance to wildlife.
Can drones use infrared?
Yes, drones can be equipped with infrared (IR) cameras. These cameras detect infrared radiation (heat) emitted by all objects, and this data is then used to create a "thermal image" showing the temperature differences in the scene. This can be particularly useful for night operations, search and rescue missions, wildlife tracking, etc.
What type of drone is used for wildlife?
Drones used for wildlife observation or research often need to be quiet, have a good camera, and be able to maintain a steady hover. Models like the DJI Mavic 2 Pro or the Parrot Anafi are often used for their high-quality cameras and stable flight performance. For nocturnal wildlife observation, drones with thermal imaging, like the DS550 or DS900, can be beneficial.
Can you use a thermal drone for hunting?
Indeed, a thermal drone can be a highly effective tool for hunting purposes. Using a thermal imaging camera, the drone can detect animal heat signatures, enabling more accessible location and tracking, even in challenging lighting conditions such as low light or nighttime. However, it's essential to ensure thermal drones comply with local hunting laws and regulations.
Do any DJI drones have infrared?
As of my last update in September 2021, DJI does offer drones with thermal imaging capabilities, typically in their professional and enterprise ranges. For instance, the DJI Matrice 300 RTK can be equipped with a DJI Zenmuse H20T camera with a radiometric thermal sensor.
What is the best drone for hunting?
The choice of the best drone for hunting depends on your specific needs and budget. However, the Parrot Anafi, DJI Mavic 2 Pro, and DS550 with thermal imaging are often highly recommended due to their high-quality cameras, long flight times, and advanced features.
What is the smallest IR drone?
As of my last update in September 2021, one of the smallest drones with IR capabilities is the FLIR Black Hornet 3. It's a nano drone designed for military and government operations. For consumer drones, compact models like the DJI Mavic series can be equipped with small, aftermarket IR cameras. Please check the current market for the latest and smallest IR drones as technology continually advances.
Conclusion
Drones have significantly transformed hunting by providing advanced aerial scouting, game tracking, and thermal imaging tools. Despite these benefits, using drones responsibly and ethically is important respecting wildlife and adhering to local laws and safety guidelines.
Two recommended drones for hunting are the Parrot Anafi and the DJI Mavic 2 Pro. The Parrot Anafi stands out for its tracking capabilities, 4K HDR camera, extended flight time, and compact design makes it easy to transport. The DJI Mavic 2 Pro, popular for hog hunting, boasts a 4K camera, long flight time, and advanced features like Hyperlapse and improved ActiveTrack.
These recommendations consider camera quality, flight time, tracking features, and durability. However, the best hunting drone depends on individual needs, preferences, and budget. Hunters should carefully review each drone's features and capabilities to choose the most suitable one for their requirements.