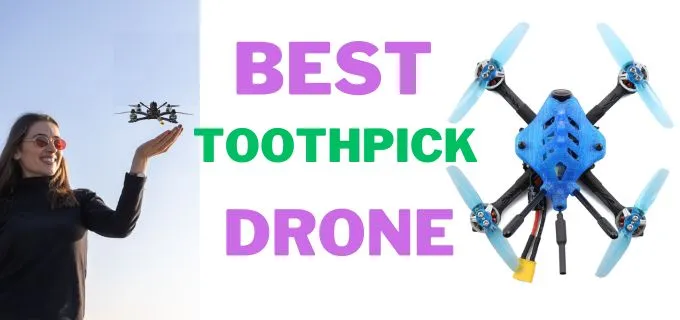 Toothpick drones have sparked excitement within the drone community as a new category of micro quadcopters. These drones, characterized by their All Up Weight (AUW) of under 100 grams, differ significantly from their larger 5-inch counterparts. Measuring 3 inches or less, the best toothpick drones offer unparalleled maneuverability in tight spaces and are an affordable alternative to building larger quadcopters.
Best Toothpick Drone
The rise in toothpick quad popularity aligns with advancements in brushless motor technology. Despite their small size, these motors deliver impressive thrust while keeping the overall weight low. The lightest toothpick drones utilize 07xx or 08xx motors for 2-inch models and 11xx motors for 2.5 and 3-inch variants. Even the heaviest 11xx motors weigh a mere 8 grams or less.
What is a toothpick drone?
The toothpick drone is an incredibly lightweight, ultra-compact quadcopter that excels in maneuverability and speed. Its name derives from its slender, toothpick-like frame, making it one of the market's smallest and most agile drones.
Their lightweight construction, often featuring carbon fiber frames, allows toothpick drones to achieve unmatched responsiveness and agility.
These are designed specifically for FPV flight like cinewhoop drones, but toothpick drones provide a thrilling experience for pilots seeking adrenaline-pumping aerial adventures. With the help of goggles or a monitor, pilots can immerse themselves in the drone's perspective, experiencing the heart-pounding excitement of high-speed flights, daring tricks, and stunning aerial cinematography.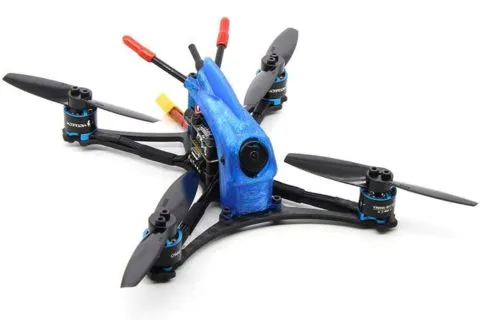 HGLRC Petrel132 BNF 4S Toothpick FPV Racing Drone
REASONS TO BUY
✓Powerful performance 
✓Light and durable carbon fiber frame.
✓No soldering or tinkering necessary due to new cable connectors.
REASONS TO AVOID
✗Not beginner-friendly
The HGLRC Petrel132 Drone is a mini marvel, packed with power beyond imagination for its compact 3-inch size. It is a perfect 4S mini-racing drone, specially tailored for beginners exploring the thrilling world of FPV racing.
Design:
The drone's ultra-lightweight construction owes to its robust carbon fiber frame, which tips the scales at a mere 76g. This perfect weight-power balance, coupled with 2S, 3S, or 4S batteries, guarantees an impressive flight performance.
Easy To Build:
A great feature of this drone is the new cable connectors, eliminating the need for soldering or tinkering. The powerful HF1106 3800KV motors have been fortified with strengthened cable connectors. Moreover, the cables are thicker and more robust, significantly reducing the chances of breakage. It's truly a plug-and-play device.
The FD VTX Micro offers powerful image transmission, enabling you to receive the fastest images. With a power potential of 400mW, it offers a competitive edge by allowing power adjustments per your racing needs.
Motor and other Component:
The new Forward 1106 3800KV motor powered the drone, delivering unmatched power and speed despite its compact size.
The FrSky XM Plus Mini Receiver, which fits perfectly on the micro drone, offers up to 16 channels and is compatible with Frsky X9D Plus X9E X12S transmitters.
What in Box?
The package includes the BNF Parrot 132 FPV Drone (with Frsky XM+ receiver), a battery strap, six Gemfan 3025 propellers, and a manual.
Verdict:
The HGLRC Petrel132 is a notable upgrade over the previous Petrel120X. The latest version offers a more powerful flight performance, with its 4S power system providing increased speed and agility compared to its predecessor's 2S or 3S system.
The carbon fiber frame has also been improved, providing higher durability and resistance to damage. At the same time, maintaining the lightweight design characteristic of the Petrel line.
Furthermore, adopting the new cable connectors simplifies the assembly process, enhancing the drone's user-friendliness, and this feature was not available in the previous model.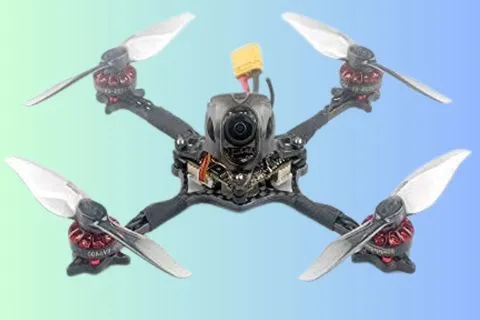 HAPPYMODEL New Crux3 FPV Drone
REASONS TO BUY
✓Lightweight brushless 
✓Crazybee-X 4in1 AIO flight controller.
✓Includes a CADDX ANT Camera 
✓6400KV brushless motor.
REASONS TO AVOID
✗Specific battery types (2s 350mah / 400mah / 450mah / 520mah) are recommended, limiting flexibility.
The Crux3 FPV Drone from HAPPYMODEL stands out in the 115mm category. This sleek toothpick drone weighs a mere 41 grams and is powered by a CrazybeeX AIO 4in1 Flight Controller. Impressively, it hosts a 6400KV motor and is compatible with Insta360. Designed to work optimally with 1-2s Brushless RC Toothpick, it delivers an exceptional flight experience.
Key Features:
The Crux3's most notable characteristic is its lightweight structure, being a 41-gram 1-2s brushless toothpick drone. It comes fitted with the new CrazybeeX 4in1 AIO flight controller, offering seamless control and navigation.
The drone includes a CADDX ANT Camera, offering superior image quality for an enriched FPV experience.
Coupled with a new 1202.5 6400KV brushless motor, the drone provides excellent speed and agility.
The device features an XT30 connector and is designed to work best with a 2s battery, ideally with a capacity of 350mAh, 400mAh, 450mAh, or 520mAh.
One unique aspect of the Crux3 is its compatibility with the Insta360 Go Camera, enabling high-quality aerial footage.
HAPPYMODEL's Crux3 FPV Drone delivers a stellar combination of compact design, powerful performance, and camera compatibility, making it a great choice for novice and seasoned drone enthusiasts.
Expert Opinion
The new Happymodel Crux3 is a significant step forward from the Crux2 model. The most notable enhancement is the inclusion of the Crazybee-X 4in1 AIO flight controller, which offers improved flight stability and control.
Moreover, the motor's KV value has been increased from the previous model's 5500KV to 6400KV, offering enhanced performance.
The Crux3 also provides:
Compatibility with the Insta360 Go Camera.
Allowing for high-quality FPV footage.
A feature which was absent in the earlier model.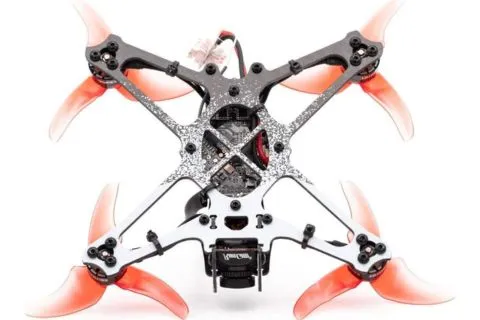 EMAX Tiny Hawk Freestyle 2 – A Solid Choice for Beginners
REASONS TO BUY
✓Beginner-friendly 
✓Durable design
✓Affordable replacements for props and batteries.
REASONS TO AVOID
✗The binding process can be difficult 
✗Camera quality could be better.
The EMAX Tiny Hawk Drone proves to be a reasonable entry-point for beginners. Initially, it's recommended to operate in horizon mode before transitioning to acro mode once you've become more comfortable. Be prepared for a somewhat challenging binding process due to the minute button size; a blunt toothpick should help navigate this.
This drone is durable when flown over grass, but its robustness decreases when encountering concrete or pavement. Be mindful of the screws as they can loosen with use; however, if you're familiar with DIY, they can easily be tightened or secured with a light-duty thread locker.
Consider investing in extra propellers and batteries as they are cost-effective and always handy on standby.
The camera, although not high-end, is functional for a beginner. You can only splurge on advanced components once you've mastered basic operation.
Downsides:
The drone screws may come loose during flights.
Some users have noted that wires were not securely soldered, leading to questions about overall quality.
If purchasing the full package, which includes a controller, goggles, batteries, and a bag, the value seems reasonable despite these issues.
The standalone drone appears to have superior durability and more secure screws than the one included in the package. This is puzzling as they are, in essence, the same model.
Verdict:
If you're introducing yourself or a loved one to the drone-racing scene, the EMAX Tiny Hawk Freestyle 2 BNF FPV Racing Drone could be a viable option. Just understand the potential for minor repairs and necessary additional purchases.
Its durability has been further enhanced, making it an excellent choice for beginners who may have more crashes. The upgraded drone features an improved camera, which although not the best, is significantly better than the one in the previous model. However, some issues persist, such as loose screws during flight.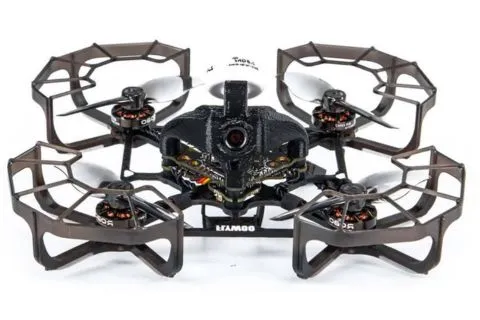 Flywoo Firefly Nano Baby Drone
REASONS TO BUY
✓AIO flight controller
✓Excellent for performing acrobatic maneuvers.
✓Comes with efficient 1002 15500KV motors 
✓2-blade propellers.
✓Versatile and compatible with a variety of cameras.
REASONS TO AVOID
✗Requires a specific type of battery 
The Flywoo Firefly Nano Drone 2S Micro Quadcopter BNF Analog stands out with its Nano Camera V2 1S from Flywoo and is renowned for its superior micromotor and top-tier AIO flight controller.
The Firefly Nano Baby 20 guarantees a unique flight experience, exhibiting smooth acrobatic motions such as dives and power loops.
Key Features
It boasts 1002 15500KV motors and Gemfan 2015 – 2 blade propellers, ensuring the ideal balance between high-performance flying and prolonged flight time.
The highly integrated GOKU Versatile F405 2S 12A AIO circuit board is built-in with ELRS 2.4g RX and multiple serial external device sets.
It includes an easy-switch battery mount design, enabling a 2S 420mAh battery for Racing, and a 2S 750mAh battery for extended flight time.
It is compatible with various cameras, including the Thumb Pro, Peanut, GO2, Thumb, and related.
Verdict:
The Flywoo Firefly Nano Baby has shown improvements over the previous Firefly models. The newer model comes with the GOKU Versatile F405 2S 12A AIO, recognized as one of the top AIO flight controllers on the market, giving pilots better flight stability and control.
The drone also offers an easy switch battery mount design, adding to the ease of use. Furthermore, the Firefly Nano Baby introduces the option of choosing different batteries based on the desired flight mode, which wasn't available in the older Firefly models.
This improved battery versatility can lead to a better flying experience for both racing and extended flight times.
Overview of Toothpick Drone Parts:
A toothpick drone can be constructed using various pre-assembled components. If you're interested in crafting your custom drone, these pre-assembled parts make the process relatively straightforward. These components are readily available in the market. Essential elements for such a project encompass the drone's frame, motors, and flight controllers.
Frame
The frame holds a quadcopter's crucial parts, such as the motors, flight controllers, and FPV cameras. Popular choices include the KababFPV toothpick micro-frame, which supports 16×16 stacks and 25.5×25.5 AIO boards, and the ZJWRC 110X, which also supports AIO boards and includes a canopy and antenna mounts.
Lil'Deuce's toothpick frame is another notable option, designed for lightweight performance. Armattan's Tadpole frame is unique for its top-mounted battery design.
Motor:
Motors for these builds require around 6-8A each. To meet this need, manufacturers have integrated flight controllers (FC) and electronic speed controllers (ESC) onto a single board, an AIO (All-in-One) FC ESC combo.
This concept has proven especially beneficial for toothpick quads. Common mounting hole patterns include 16x16mm, 20x20mm, and 25.5×25.5mm.
Smaller 16×16 FCs typically consist of separate FC and ESC boards, commonly known as stacks, offering a more compact configuration. On the other hand, the 20×20 boards are designed with integrated All-in-One (AIO) options and stack configurations.
Building a toothpick class quadcopter requires a careful selection of components such as the flight controller (FC), electronic speed controller (ESC), video transmitter (VTx), motors, cameras, propellers, and batteries, with a focus on weight, power, and compatibility.
Brushless motor options are generally preferred, with sizes such as 08xx, 11xx, and 12xx being common. However, larger motors require bigger batteries and stronger ESCs due to their higher current demand.
Camera:
When it comes to cameras, AIO cameras are the go-to option due to their compact size, lightweight, and practicality.AIO cameras are preferred for their compact size, lightweight, and practicality, providing satisfactory image quality for a toothpick quad. They provide adequate image quality for toothpick quads and are available with built-in antennas for VTx.
Two main types of antennas are built into the VTxs of AIO cameras: CP and whip antenna.
Propellers
The standard sizes for ultralight quad propellers are 2″, 2.5″, and 3″, with 2.5″ being the most common. Toothpick motors usually have a 1.5mm shaft diameter, which is important if you plan to use them for driving.
Battery
For batteries, most range from 1s to 3s (occasionally 4s) with a 450mAh capacity, with the size dependent on the frame size, power consumption, and quad design. The battery's C-Rating is another crucial factor, as a higher C-Rating reduces voltage drop during rapid throttle changes.
Frequently Asked Questions
What size is a toothpick drone?
Toothpick drones are categorized as micro or ultra-lightweight and typically have a diagonal motor-to-motor distance (wheelbase) of around 65mm to 120mm. They are designed to be extremely light, often weighing less than 250g, even with a battery attached.
How far can FPV drones go?
The range of an FPV drone largely depends on the drone's video transmitter (VTX) power and the receiver's quality on the goggles. 
Most FPV toy drones can comfortably reach distances between 50-100m. However, with higher-power VTxs and directional antennas on the receiving end, they can reach up to several hundred meters. But please remember that regulations in many countries require you to keep the drone within visual line of sight.
What is the best drone size?
The "best" drone size depends on what you want to do with it. Smaller drones, like Toothpick and tiny whoop class, are great for indoor flying or training, while larger 5″ or 6″ drones are often used for outdoor freestyle flying, racing, or cinematic applications. Medium-sized drones (3″-4″) can provide a nice balance between agility and stability. Ultimately, the best drone size fits your specific needs and environment.
Conclusion
The toothpick drones excel at maneuvering through tight spaces and deliver an exhilarating flying experience.
Throughout this article, we have explored some of the top toothpick drones available, highlighting their key features, specifications, and recommended components. The HGLRC Petrel132 stands out for its 4S power and durability, while the HAPPYMODEL New Crux3 impresses with its lightweight design and compatibility with Insta360 cameras. The EMAX Tiny Hawk Freestyle 2 and Flywoo Firefly Nano Baby offer improved capabilities for different flying styles and preferences.
When choosing a toothpick drone, it's important to consider factors such as frame durability, motor performance, flight controller capabilities, camera quality, and battery compatibility.
Whether you're a beginner or an experienced pilot, the toothpick drone category caters to various skill levels and flying preferences.
With the right toothpick drone, you can embark on thrilling flights, explore new horizons, and push the boundaries of FPV drone flying. So, get ready to soar to new heights and experience the excitement the best toothpick drone can bring to your flying adventures.