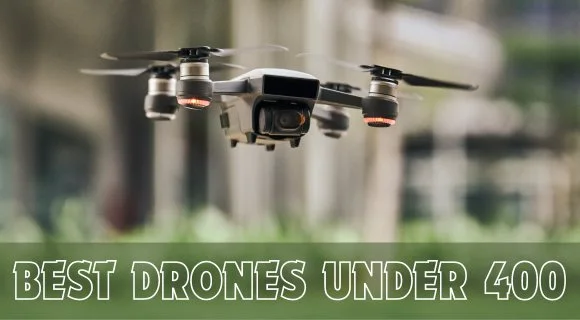 Welcome to the exhilarating world of aerial exploration, where innovation meets affordability! Drones have transcended from being a futuristic dream to an accessible reality for enthusiasts and professionals alike. In this guide, we dive headfirst into the realm of high-flying technology, unveiling the best drones under $400 that redefine the boundaries of performance and value.
Best Drones Under 400
Whether you're a budding aerial photographer, a tech-savvy adventurer, or a hobbyist with an eye for the skies, join us as we unravel the top contenders in this budget-friendly drone extravaganza.
In this article, we've chosen drones that don't cost a lot. These drones are not only priced under $400, but they also give you a really cool flying experience. Some drones are good at doing tricks in the air, while others work like flying cameras for monitoring and some drones capturing really cool views while hiking. 
We're here to help you find the one that matches your dreams. So, get ready for an adventure as we show you the best affordable drones out there. We will start exploring these drones one by one.
1 DJI Mini SE 2:
Say hello to the DJI Mini 2 SE, a top pick for drones under $400. It's inspired by the impressive DJI Mini 2 that came out in November 2021, sharing the same cool camera features with a 1/2.3" CMOS and 12 MP photos. What makes it stand out? It's way more affordable. While the Mini 2 costs around $449, the DJI Mini 2 SE gives you almost a similar experience for just $339.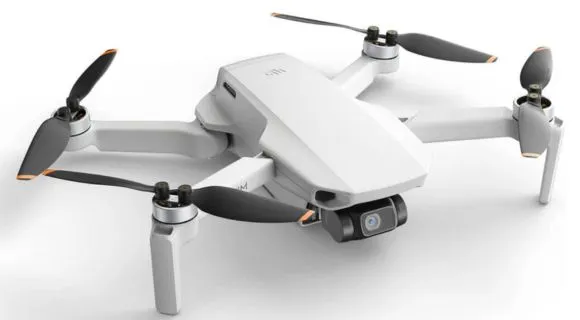 REASONS TO BUY
✓2.7K Camera
✓Decent Flight Time
✓Better Wind Resistance
✓Light Weight Drone
✓Return to Home
REASONS TO AVOID
✗No obstacle aviodance System
Design:
One special thing is how light it is, only 249 grams. Why does this matter? Drones under 250 grams don't need to follow many federal rules (like in the U.S., they don't have to be registered with the FAA for fun flying and don't need to meet Remote ID rules). Think of it as the ultimate in being easy to carry around and, let's say, a "rule-friendly" design. Great for new drone users, those on a tight budget, or even experienced flyers who want a backup drone for travel or situations where a small, unregistered option is handy.
Flying Features:
It uses DJI O2 Transmission tech, allowing you to get videos from up to 10 km away without a lot of interruptions. You can fly it for a max of 31 minutes. And here's the cool part: it's super easy to take off and land with just one tap, and it can stay in one spot or come back home whenever you want. DJI SE 2 drone also tough against strong winds, handling speeds of 10.7 m/s while keeping your pictures nice and steady.
If you love drones for the camera, let's talk about the DJI Mini 2 SE's camera.
CMOS sensor:
Even though it's not the largest sensor, it takes great pictures for smaller prints or social media. For super high-quality pics, you might want a drone with a bigger sensor. The 3-axis gimbal is what makes your shots smooth, like a bird's eye view, better than digital stabilization in some other drones.
HD video:
It's not the highest resolution, but it's perfect for Instagram videos and social media sharing. If you want something bigger, some other DJI drones go up to 48MP. If you're really serious about making films, consider looking at different models. The drone is handy for changing your shots' distance and style when recording HD videos.
Customer Reviews about the Product:
Different users are flagging major issues with the DJI Mini 2 SE, specifically with its software and hardware. The DJI Fly App is a source of frustration, labeled a "disaster" due to setup problems, confusing passwords, and intrusive ads.
The tight fit of the drone's battery is causing difficulties and raising concerns about long-term durability.
For some customers, the controller is another headache, with reported charging and connection issues and disappointment over the absence of a follow-me mode. These problems collectively downgrade the user experience with the DJI Mini 2 SE, urging potential buyers to carefully consider these drawbacks before making a purchase.
Verdict:
The DJI Mini 2 SE is a fantastic choice for drone enthusiasts on a budget. Inspired by the DJI Mini 2, it keeps the awesome camera features at an affordable price.
It's super lightweight at 249 grams, which not only makes it easy to carry but also helps dodge many rules, especially in the U.S. Perfect for beginners or experienced flyers looking for a reliable, travel-friendly drone, the DJI Mini 2 SE is your go-to companion for sky-high adventures.
2 Potensic ATOM Drone :
Potensic has really stepped up its game with the Atom drone series, especially with the latest model, the Potensic Atom. This drone is a fantastic choice for beginners, offering cool features like a 3-axis mechanical gimbal and manual camera control. While it doesn't have Collision Avoidance, it makes up for it with impressive subject-tracking capabilities, allowing for automated flight patterns.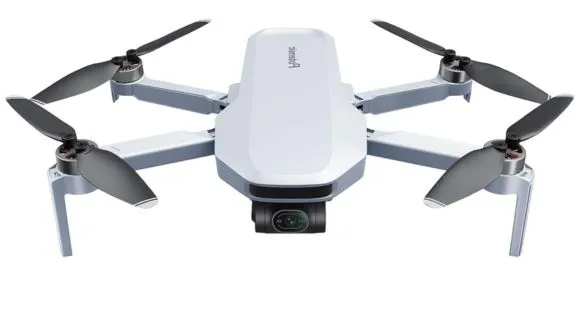 REASONS TO BUY
✓foldable design
✓21 mph Speed
✓3-axis gimbal
REASONS TO AVOID
✗Sensitive Controller, difficult for Begginers
Design:
The Atom's folding design makes it super portable, transforming it from a compact size to a larger one when unfolded. It weighs only 8.8 oz, making it easy to carry around. With a flight time of around 25 minutes on average, it's not too shabby, and the Return to Home feature kicks in at 16% battery to ensure a safe landing.
Speed:
Despite its small size, the Atom is quite powerful, resisting winds up to 24 mph. It handled well in gusts of 21 mph during testing. The Potensic Pro app even warned about high winds at higher altitudes, emphasizing safety.
Overall, the Potensic Atom proves to be a top-notch drone for beginners, offering a solid mix of features, portability, and performance.
The Potensic ATOM 3-Axis Gimbal 4K GPS Drone is a great choice, especially for beginners.
The Potensic Pro app makes it super easy to control the drone, and there's a beginner mode that's perfect for newbies. The controller is different from others, and it can hold big phones like the Samsung Galaxy S23 Ultra.
Flying:
Flying the Atom is a breeze with responsive controls and three flight modes. There are also Quickshots for cool automated flight patterns. The only hiccup is that sometimes the camera tilts when the drone moves, but it's not a big deal. Safety-wise, the Atom is top-notch, with precise GPS and up to 3.7 miles of video transmission.
Camera
The camera quality is good, with sharp videos, but photos are hazy. The 3-axis gimbal provides smooth footage, a big upgrade from the Atom SE. And guess what? It's even cheaper than DJI's Mini 2 SE, shooting up to 4K videos.
To sum it up, the Potensic Atom is the best drone under $400. It's perfect for beginners and hobbyists who want awesome features without breaking the bank. Professionals might need something fancier, but for the price, the Atom is a winner.
Verdict:
If you're starting, you might feel safer with a pricier drone that has Collision Avoidance. This feature helps drones dodge obstacles to avoid crashes. If you want advanced features like this, check out the DJI Mini 4 Pro.
Smaller drones under 250 grams are lighter and have less powerful motors. This means they might struggle in strong winds. For a safe flight in windier conditions, go for the DJI Air 3. It's a bit bigger and has a dual camera.
3 The DJI Spark mini-drone
The DJI Spark mini-drone is awesome portable drone because it's small and lightweight, making it super fun and easy to fly. You can take it anywhere with you! It's way smaller and lighter than other DJI drones, like the Mavic Pro. It comes in cool colors, too, like Alpine White and Sky Blue.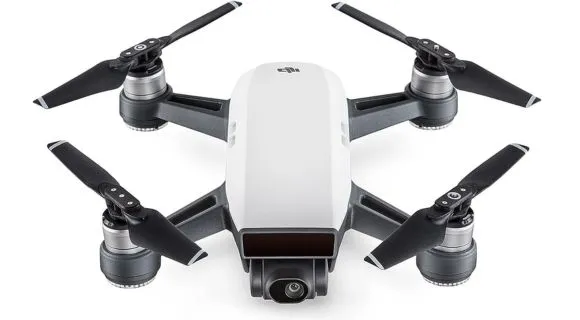 REASONS TO BUY
✓Affordable
✓Small & Lightweight
✓Many Intelligent Flight Modes
✓Obstacle avoidance
✓Easy to fly
REASONS TO AVOID
✗No 4K video
✗Limited flight range compared to larger models
The Spark comes with various Intelligent Flight Modes, making it easy to capture professional-looking videos. Safety features include a knowledge quiz, geo-fencing, obstacle avoidance, and a stable FlightAutonomy system.
For photo and video, the Spark performs well with a 2-axis gimbal, 12 MP photos, and 1080p video. Accessories like prop guards, spare propellers, a remote controller, and a battery charging hub are available.
Smart Flying Features:
The DJI Spark comes with lots of smart flying features. You can make it take off or land in your hand, and you can control it using hand gestures. There are different gestures for taking selfies, moving closer or away, and making it follow your hand. It also has cool video features like Rocket, Dronie, Circle, and Helix, making it easy to capture awesome videos.
Safety First:
DJI cares about safety. They have a quiz to make sure you know the rules before you fly. The Spark also has geo-fencing to help you know where it's safe to fly. It even has obstacle avoidance so that it won't bump into things. If you ever lose control or the battery is low, the Spark will come back home on its own.
Photo and Video:
The Spark takes good photos and videos with its cool camera features. It has special shooting modes for unique photos. The pictures in the review were taken with the Spark and edited using Adobe Lightroom. With the greate video quality you can use this drone for monitoring tasks like watch your form cattles
Accessories:
There are lots of extra things you can get for the Spark. If you're planning to fly a lot, it's a good idea to get more batteries to stay in the air longer. The controller is also handy for better control. There's a charging station if you're flying away from home, and if it's for a child or a new drone pilot, you might want propeller guards to keep your fingers safe. The Fly More Combo is a good deal with extra goodies.
Comparison with other models:
Let's look at how the DJI Spark Portable Drone compares to other models. The main things that make it different are the lower price, smaller size, lighter weight, and it doesn't record videos in 4K. Also, if you want a really cool first-person flying experience, you can get the DJI Goggles. They're not necessary for enjoying the Spark, but they can add a whole new level of fun. Now, let's check out the good and not-so-good things about the Spark.
User Reviews:
Some people had trouble controlling it at first, but DJI fixed that with updates. It's much quieter than other big drones, so you won't bother people when you fly it. The Spark is speedy, reaching 31 mph in sports mode, and it can handle winds well. It lasts about 16 minutes in the air, and you can control it with your phone or a controller for more speed and distance. It's a blast to fly, and I mostly used the controller for that extra thrill!
Connectivity-wise, some users reported issues initially, but DJI's software updates have addressed these problems. It's less intrusive than larger drones, making it great for flying in more places without drawing too much attention.
Verdict:
The DJI Spark is great for beginners and those prioritizing portability. However, if you're focused on range, video quality, and longer flight time, consider the Mavic Pro or Phantom series. The Spark's portability and fun factor make it a top choice for spontaneous flying adventures. Check for deals on DJI's website or 9to5Toys for great prices on the DJI Spark mini-drone.
4 Ruko F11MINI 3B Drone Review:
If you're on the lookout for a drone, it can be not very clear with so many choices. But don't worry, the Ruko F11 Mini is what you're looking for, and I'll tell you all about it.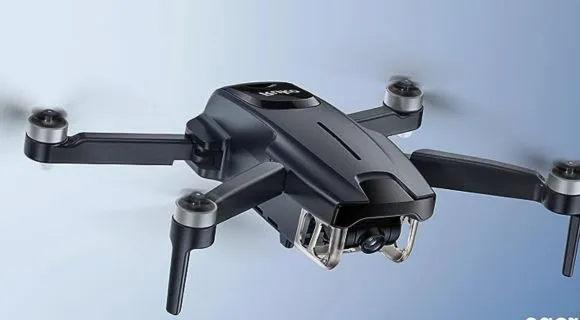 Design:
I really liked the Ruko F11 Mini because it looks cool and modern. It's black, which makes it seem professional and fancy compared to other drones.
The drone is small and light, making it easy to carry around. I feel safe flying it because it can handle bumps and crashes without breaking.
The drone is made of tough plastic, and even the propellers are crash-resistant. They even give you extra propellers, just in case.
Camera Performance:
I was excited about the camera on the Ruko F11 Mini. It's got a 4K camera that takes awesome photos and smooth videos.
The camera has a wide-angle view, and you can adjust the lens to capture different shots. The footage is clear and sharp, and I like that it works well in different lighting.
You can do cool things with the camera, like real-time video from far away, a Follow Me mode, and even a Waypoint Flight mode. It's perfect for making creative content.
I recommend this drone to anyone who wants a drone with a great camera. It's good for fun and serious photography or videography.
Flight Performance:
Flying the Ruko F11 Mini was a blast. It can go far and high, and the batteries last a long time—up to 60 minutes! And the best part? You don't have to sign it up with aviation folks because it's super light!
It's fast, too, reaching speeds of about 33mph. Even with the speed, it stays stable and responds well to the remote control. Flying is easy and fun.
I love the Waypoint Flight mode, where you can plan a path for the drone. And the Follow Me and Point of Interest modes worked great, giving me cool shots.
This drone is awesome for photography and videos. It's fast, steady, and has cool modes for creative shots.
Battery Life and Charging:
The battery life of the Ruko F11 Mini is good, lasting about 30 minutes per charge. It comes with two batteries so that you can fly for even longer.
Charging is easy, either directly in the drone or with a charging hub that does three batteries at once. It takes a few hours, but it's worth the wait.
The batteries are modular, so swapping them is a breeze. Overall, I'm happy with the battery life and charging options.
Remote Control:
The remote control for the Ruko F11 Mini is great. It's small, easy to use, and the sticks are comfy. The range is impressive, letting you fly it far.
The remote has a cool return-to-home function, so if the drone loses signal, it comes back to where it started. There's also a handy LCD screen showing important info.
If you're into drones, you'll like this remote. It's easy to use, comfortable and gives you control over the drone.
Safety Features:
Safety is essential, and the Ruko F11 Mini has some good features. It can automatically return home, even if it loses connection or the battery is low. This is handy in unfamiliar places.
The GPS helps the drone stay in place and avoid obstacles. There's also an optical flow sensor for stability in the wind.
But remember, there are rules for flying drones safely. Don't fly near people or animals, and follow local laws.
Verdict:
The Ruko F11 Mini is a safe and fun drone with cool features. Just be careful with those propellers!
5 Sunfanie 12MINI-YXH-01 Drone:
Say hello to the Sunfanie 12MINI-YXH-01 Drone – your passport to awesome flying fun! With HD cameras, easy controls, and lots of cool moves, this mini drone is all set to capture your adventures and make every flight super exciting. Get ready for smooth flying, fun features, and non-stop joy with this review!
HD Camera:
Snap HD pics and videos with our mini camera drone for kids! Dual cameras (front and bottom) with 1080P HD and a 90° adjustable angle make for awesome aerial shots. Connects to your phone for live video through Wi-Fi FPV.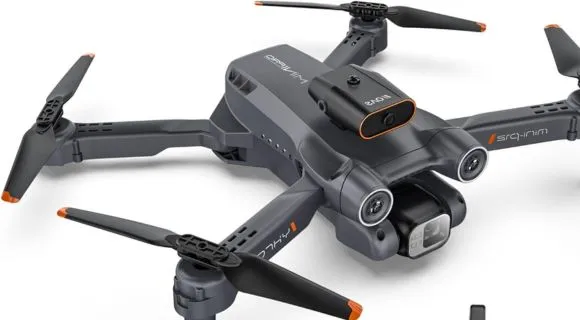 REASONS TO BUY
✓HD Cameras
✓Perfect for beginners and kids
✓Long Flight Time
✓Safety Features
REASONS TO AVOID
✗Limited Range
✗Lacks advanced obstacle avoidance features.
Easy Flying:
This mini drone for kids is a breeze to control! It holds its height steady and avoids shaky shots, perfect for newbies. It has great stability during flight, making it super kid-friendly.
Long Flight, Safe Landings:
Two rechargeable batteries mean up to 30 minutes of flight time! Worried about crashes? Rest easy knowing that the low battery warning and emergency stop feature are your trusty allies, guaranteeing secure landings on every adventure.
Lots of Fun Features:
Get ready for a blast! This drone has Remote, APP, Voice, and Gravity control options. Do cool tricks like flips, spins, altitude holds, and more. Perfect for parties, travel, and outdoor fun!
Portable and Easy:
Designed for kids and beginners, this drone is a piece of cake to operate. No fuss, no manual pairing. It's lightweight, portable, and comes with a carrying case for your outdoor adventures.
Whether you're a little adventurer or a full-grown thrill-seeker, the Sunfanie drone is your ticket to a good time!
Verdict:
Navigating the drone scene can be a challenge, trying to find that sweet spot between cost and performance. Good news, though – the drones we discussed earlier spill the beans that you don't have to drain your wallet for top-notch quality.
Loaded with features that cater to both rookies and seasoned pilots, these drones are the real deal. Whether you're all about capturing cinematic masterpieces, pushing the altitude limits, or simply soaking in the thrill of flight, rest assured, there's a drone under $400 that's got your back!
Final Words:
Our extensive research on drones under $400 aims to provide you with valuable insights for making an informed choice. Choosing the best drone depends on your specific needs and preferences in various scenarios. However, our top recommendations stand out, with the DJI Mini SE 2 and Potensic ATOM Drone earning our endorsement as the finest options in the under $400 category.