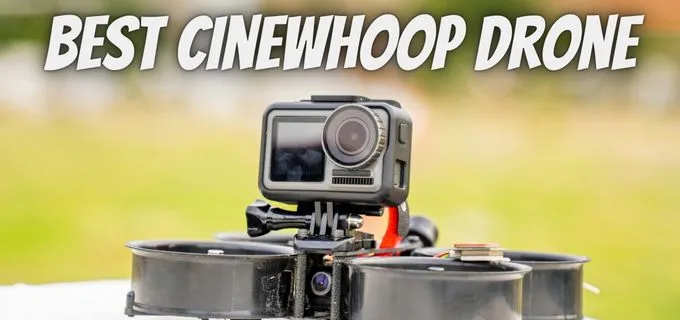 Cinewhoop drones are becoming increasingly popular for aerial photography and videography. They offer a unique combination of portability, stability, durability, and affordability, making them an ideal choice for capturing incredible footage from the sky.
This article will provide an overview of cinewhoop drones, their features, and benefits, why they're great for aerial photography and videography, and a list of the top 5 best cinewhoop drones on the market today.
What is a Cinewhoop drone?
A cinewhoop drone is a unique and specialized type of micro FPV drone with protective ducts around its propellers. These ducts serve multiple purposes, including enhancing safety and stability during flights.
The Cinewhoop drones are usually designed with durable materials that can withstand crashes or other impacts without suffering major damage.
By prioritizing safety and stability, cinewhoop drones enable pilots to capture shots from unique angles and perspectives that would be challenging for other types of drones.
Importance of using Cinewhoop drones for aerial cinematography
The primary advantage of using a Cinewhoop drone lies in its ability to navigate through challenging spaces that would be inaccessible to larger camera drones.
With its small size and powerful propulsion system, a cinewhoop drone can effortlessly fly through narrow gaps, weave between obstacles, and perform intricate aerial maneuvers, all while maintaining stability and control. This unique capability allows filmmakers to capture breathtaking shots in forests, urban areas, or indoor spaces.
Moreover, cinewhoop drones typically have high-quality cameras capable of capturing smooth and cinematic footage. These cameras often feature adjustable settings for exposure, white balance, and other parameters, allowing cinematographers to fine-tune the image quality according to their creative vision. The combination of agile flight performance and superior camera capabilities makes cinewhoop drones the perfect tool for capturing stunning aerial footage that stands out from the rest.
Top cinewhoop drones
We've researched to find the top Cinewhoop drones in the market and included expert opinions and testing results to help you make an informed decision. Here are the top 6 best Cinewhoop drones available today: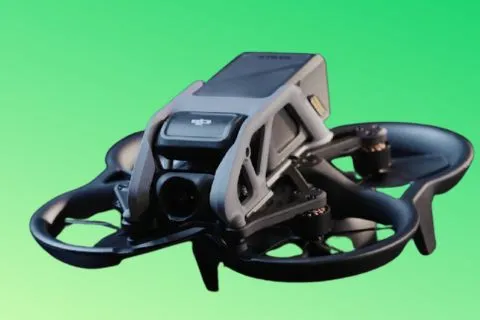 DJI Avata Pro Combo Drone
REASONS TO BUY
✓First-Person View Drone
✓4K Video
✓Built-in Propeller Guard
The DJI Avata Pro-View Combo drone is an absolute blast to fly. Whether you're an experienced drone pilot or a beginner, this Drone provides an intuitive flying experience that will leave you wanting more. The ultra-smooth 4K footage captures every moment perfectly, making it feel like you're soaring through the skies.
The Avata is a compact and agile drone that offers portability for various adventures. With a remarkable 18-minute flight time, it ensures extended flying sessions. The Drone has upgraded safety features, including a built-in propeller guard that can withstand minor impacts while maintaining flight.
Moreover, the Avata incorporates DJI's flagship transmission system, which delivers a sharp and responsive HD live feed for an enhanced aerial experience. Overall, the DJI Avata Pro-View Combo drone is a fantastic drone that provides an unparalleled flying experience.
A standout feature of the Drone is its compatibility with DJI Goggles 2, Remote Control 2, and Motion Control. This extensive compatibility enables users to fully immerse themselves in the flying experience, adding heightened engagement and control to their aerial adventures.
Some Cons from Experts Who Tested It:
Its build quality could be better, with more precise instructions and sluggish responsiveness, leading to frequent crashes. The Drone's battery life needs to be longer, and there are charging issues.
---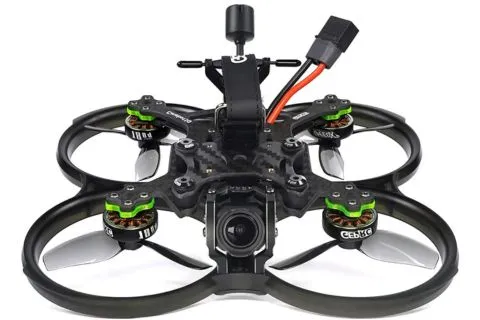 GEPRC Cinebot30 HD O3 FPV Drone
REASONS TO BUY
✓FPV & Racing Drone
✓Strong Body
✓Powerful 1804 motors
REASONS TO AVOID
✗Limited flying Range
The GEPRC Cinebot30 HD O3 FPV drone is a tremendous cinematic drone I recently enjoyed. This Drone offers some truly impressive features. It is constructed with high-strength aluminum parts made from 7075 aircraft-grade alloy material, ensuring durability. The inclusion of shock-absorbing pads provides excellent vibration isolation, resulting in smooth and stable footage.
Camera Quality:
One of the standout features of this Drone is its upgraded video transmission system, which allows seamless compatibility with a full-sized GoPro camera. It means you can capture stunning high-definition footage with ease. I was particularly impressed by the one-piece injection-molded propeller guard and impact-resistant PC material used in its construction.
Powerful Motors:
Equipped with a powerful 1804 motor and an HQ prop T76mm*3 propeller, this Drone delivers low-noise operation and surging torque, making it ideal for shooting at ultra-low altitudes. It offers superior performance redundancy and easy handling, providing reliability and smooth operation, even in unpredictable situations. I found the Drone to be highly responsive and agile in the air, which allowed for precise and controlled flights.
GEPRC professionals have expertly tuned the GEPRC Cinebot30 HD O3 drone to perform exceptionally well indoors and outdoors. Using a grain-cut carbon fiber sheet has further enhanced its strength and durability.
Drawbacks
While there is one drawback worth mentioning—the Drone tends to heat up, leading to occasional disconnections with the controller—I believe that overall, the GEPRC Cinebot30 HD O3 is an outstanding drone that opens up endless possibilities for capturing breathtaking aerial shots. Its impressive features, sturdy construction, and exceptional performance make it a top choice for any drone enthusiast looking to explore the world of cinematography.
---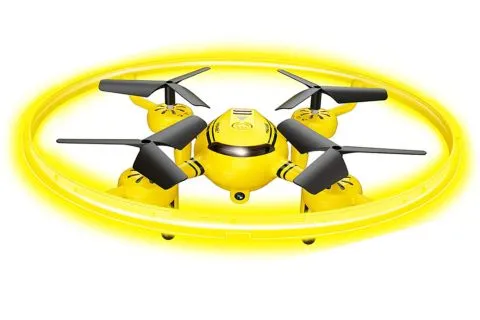 HASAKEE Q8 FPV Drone:
REASONS TO BUY
✓HD Camera
✓Sensor and Gesture Control
✓Best for Kids
REASONS TO AVOID
✗Not good for strong wind
This mini Drone is ideal for beginners. It features a 1080p camera with a 120° wide angle lens that provides crystal clear footage from up to 100m away.
The HASAKEE Q8 FPV Drone offers impressive features despite its compact size. Its unique lighting design for captivating night flights and a Big-Protective-Circle that safeguards the propellers from collisions.
User-friendliness is a key strength of this Drone, featuring one-button take-off, landing, and return functions. It offers three-speed levels suitable for beginners and skilled pilots alike, while the Altitude Hold feature ensures stability in the air.
With Gesture Control and Smart Voice Control, capturing photos and videos becomes effortless. The ability to draw flight routes on the app interface adds a fun and exciting element to flying.
This Drone is particularly appealing to photography enthusiasts, thanks to its HD Camera and Live Video function. It supports real-time streaming on both IOS and Android systems, and the captured media can be conveniently stored in the app and the device's photo album system.
---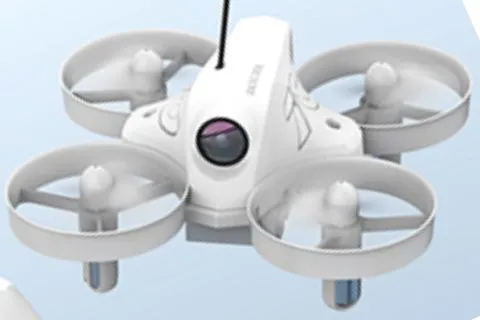 APEX VR70 FPV drone
REASONS TO BUY
✓FPV & supports FPV Goggles
✓Drop-resistant & Beginner Mode
✓best for Novice Practice Drones
REASONS TO AVOID
✗Low Range
The APEX VR70 FPV drone is an incredible flying companion that provides drone enthusiasts with a unique perspective on the world. With real-time image transmission through the FPV goggles, you can explore the world's beauty as you fly.
Design:
One of the most impressive features of the APEX VR70 is its compact and lightweight design that allows it to fly in even the narrowest of spaces. The agility of this Drone is remarkable and is perfect for exploring the city streets or capturing stunning aerial footage of your surroundings. The APEX VR70 is a beginner-friendly drone that is excellent for indoor practice.
Another significant feature of the APEX VR70 is its 360° protection and highly elastic material, making it resistant to falls and collisions. You can fly the Drone with peace of mind since it is designed to prevent damage to itself or nearby people.
Drawback:
The Drone's limited range and control difficulty are some of its drawbacks, but they are not enough to overshadow the amazing features and experience you'll get with the APEX VR70 FPV drone.
The APEX VR70 FPV drone is a highly recommended addition to any drone enthusiast's collection. It offers an exceptional flying experience that will leave you wanting more.
---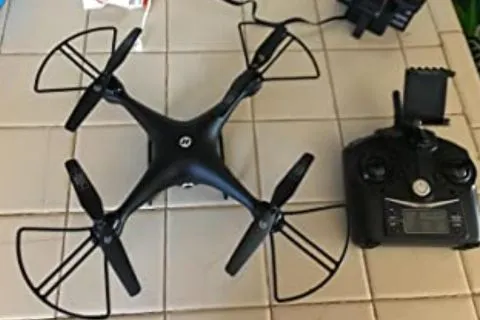 Holy Stone HS110D FPV RC Drone:
REASONS TO BUY
✓1080P Camera
✓Gravity Sensor
✓Gesture Control & Voice Control
✓3D Flip RTF 2 Batteries
REASONS TO AVOID
✗limited controller range
The Holy Stone HS110D FPV RC Drone is ideal for beginners and intermediate pilots. It provides affordability and reliability, making it a suitable option to buy. The 1080P FOV 120° HD FPV camera delivers high-quality, clear footage that you can quickly view on your smartphone. Moreover, with a user-friendly app that allows you to share and expand your creativity effortlessly, this Drone is a game-changer.
One of the outstanding features of this Drone is the Altitude Hold System, that provides a stable and straightforward flying experience. It lets you focus on taking breathtaking photos and videos without worrying about the Drone's positioning. The Drone offers the convenience of Headless Mode, which simplifies flying when the Drone is not visible.
It also includes a mobile control app that supports various functions such as voice control, gesture control, trajectory flight, and gravity sensor control, enhancing the overall flying experience. You can enjoy a flight of up to 20 minutes with the two modular batteries that come with it.
Despite its low price, the Holy Stone HS110D FPV RC Drone has a limited range and responds poorly to controls beyond approximately 50′. Also, the smartphone app needs improvement. Overall, the Holy Stone HS110D FPV RC Drone provides an impressive flying experience, making it an excellent drone for beginners and hobbyists.
How to Choose The Best Cinewhoop Drone
Choosing the top Cinewhoop drone involves several factors. First, you need to select an appropriate blade size for your requirements. Further, consider the type of motor preferred, and decide if you want a design with ducts or prop guards.
Flight Performance:
Cinewhoop drones should be highly agile and responsive to pilot inputs. Look for models with quick acceleration, precise control, and the ability to perform tight turns and flips.
Stability is essential for capturing smooth footage. Opt for cinewhoop drones equipped with advanced flight controllers and stabilization systems to counteract wind gusts and vibrations, resulting in steady and balanced shots.
Camera Specifications:
The quality of the camera is vital for capturing professional-grade footage. Look for drones that support high-resolution video recording, such as 4K or higher, to ensure detailed and crisp visuals.
Cinematographers often require control over exposure, white balance, and other camera settings to achieve the desired cinematic look. Choose a drone with adjustable settings to fine-tune the image quality according to your creative vision.
FPV Camera:
Different Cinewhoop drones come with different types of cameras, so it is important to ensure you get a camera that can take the kinds of footage you want.
Types of Propeller Guards:
When considering between ducts and prop guards for your cinewhoop Drone, you should consider the environment in which you will be flying it. Ducts offer more protection from wind and other elements but can also cause some drag while flying. Prop guards are another option that provides some protection but less than ducts. They are also lighter and less obtrusive when flying, so they might be the better option if you plan on flying in something other than windy conditions.
Weight of Drone:
The weight of the Drone is an important factor to consider when selecting. If you need a lightweight drone, then look for one that is made of carbon fiber or has a larger prop size. If you need something more heavy-duty and robust, look for one with a durable frame and a bigger motor.
Battery Life and Charging Time:
Having longer flight times provides the advantage of capturing footage without frequent battery changes, maximizing the opportunities for uninterrupted filming. Look for drones that offer extended flight times to optimize your shooting sessions.
Having spare batteries is crucial for uninterrupted filming. Consider drones that offer fast charging options, ensuring quick turnaround times between flights.
Durability and Build Quality:
The drones should be built to withstand the rigors of aerial cinematography. Look for models constructed with durable materials like carbon fiber or robust plastic, ensuring resistance to crashes and impacts.
These drones often fly in challenging environments, including proximity to obstacles. Choose drones incorporating protective measures such as propeller guards and frame-mounted bumpers to safeguard critical components from damage.
Considering these factors when selecting a Cinewhoop drone will help you find a model that aligns with your needs, budget, and skill level. In the next section, we will introduce the top Cinewhoop drones currently available in the market, providing an overview of their features and specifications to assist you in making an informed decision.
FAQs
Is Cinewhoops hard to fly?
Cinewhoops may present a learning curve, particularly for individuals new to flying drones. However, with practice and experience, they can be flown effectively by pilots of different skill levels.
Cinewhoops are typically equipped with features such as stabilization systems, GPS, and flight modes that make them more user-friendly and easier to control. Additionally, advancements in drone technology have made Cinewhoops more stable and predictable in flight, contributing to a smoother flying experience.
How fast is the Cinewhoop drone?
The speed of a Cinewhoop drone can vary depending on factors such as the motor power, propeller size, and overall weight. Generally, Cinewhoops are designed for stability and smooth footage so that they may prioritize something other than top speed. However, they are still capable of decent speeds, often reaching around 30-40 kilometers per hour, depending on the specific model and setup. It's important to note that the focus of Cinewhoops is typically on maneuverability and capturing cinematic shots rather than pure speed.
What is a Cinewhoop used for?
A Cinewhoop is primarily used for capturing cinematic footage in various environments. Its compact size and stability allow for flying in tight spaces, including indoors and around obstacles, resulting in smooth and steady shots. Cinewhoops are commonly employed in the film and video production industry to capture aerial footage for movies, commercials, documentaries, and other creative projects.
What is the best Cinewhoop size?
Cinewhoops are available in various sizes, typically ranging from 2.5 inches to 3 inches. Smaller Cinewhoops offer increased maneuverability, allowing you to navigate tight spaces and capture dynamic shots easily. They are well-suited for indoor flights and shooting in confined areas. On the other hand, larger Cinewhoops provide more excellent stability and can carry heavier camera setups, resulting in higher-quality footage. They excel in outdoor environments and are capable of capturing more cinematic shots. Ultimately, the best Cinewhoop size will depend on your intended use and shooting requirements.
Conclusion:
When looking for the best Cinewhoop Drone, there are many factors to consider, such as camera features, types of propeller guards, weight, and battery life.
After researching all these key points, we recommend DJI Avata Pro-View Combo & APEX VR70 FPV Drone as the two top market options. The DJI Avatar Pro-View is an excellent choice if you're looking for a compact yet powerful offering with adjustable settings. At the same time, Apex VR 70 offers exceptional durability and protection from windy conditions making it ideal for outdoor flights.
Ultimately, choosing between these drones will depend on your specific needs, but either option should help you capture stunning cinematic footage with ease!