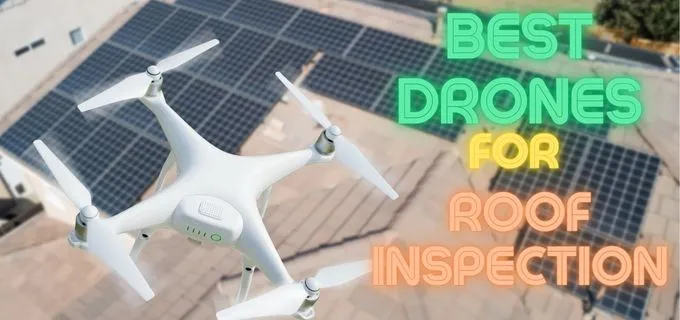 If you are a property manager or roof consultant looking for a drone that can revolutionize the way you conduct roof inspections, look no further. Imagine a remarkable aerial device equipped with an advanced high-resolution camera, capable of capturing intricate rooftop imagery from an elevated perspective, effectively eliminating the necessity for perilous climbs.
Picture a device that can swiftly cover large areas, detecting hidden issues and providing valuable insights. With the best drones for roof inspection, your job becomes safer, more efficient, and remarkably innovative.
Best Drones For Roof Inspection
Drones have the potential to transform property and roof inspections by minimizing the need for manual climbing and navigating dangerous rooftops, reducing accidents, and improving property condition assessment.
This guide aims to assist contractors, property managers, and roof consultants in harnessing drone technology.
Integrating drones into your inspection routine can enhance efficiency, accuracy, and safety.
Let's journey through the world of drones and discover the perfect companion for your inspection needs.
Can Drones Be Used for Roof Inspections?
Absolutely! As a drone expert, I know drones can be highly effective tools for roof inspections. Utilizing drones for this purpose offers several distinct advantages.
Drones are an excellent tool for roof inspections due to their numerous advantages. They enhance safety by eliminating the need for inspectors to physically climb onto roofs, providing a remote inspection from a safe distance.
It's important to note that commercial drone usage, including roof inspections, is regulated by the FAA in the U.S. Compliance with guidelines, such as obtaining a Remote Pilot Certificate and registering the drone, is necessary.
Using drones for building inspection have serval advantages:
Advantages of Using Drones for Inspections
When it comes to roof and home inspections, drones are revolutionizing the process. There are several key advantages to integrating drone technology into your inspection protocol:
Improved Safety:
Safety is paramount in the building inspection industry, and drones significantly reduce the risk of injuries. They eliminate the need for inspectors to climb up on roofs or access hard-to-reach areas, reducing the possibility of falls and related accidents.
Increased Accuracy:
Drones with high-resolution cameras or thermal imaging can capture detailed images and videos of rooftops and buildings. It allows for precise inspections that can detect even the smallest anomalies, like cracks, damage, and potential problem areas that might be missed in a manual inspection.
Enhanced Efficiency and Time Savings:
Drones have the remarkable capability to swiftly cover unreachable areas of building in a fraction of the time. While for same area it would take a human inspector to manually assess the equivalent region. Not only does this mean quicker inspections, but it also enables more frequent inspections. Which can be beneficial in preventive maintenance and damage control.
Buying Guide: Choosing the Best Drones for Roof and Home Inspections
When selecting a drone for roof and home inspections, it's crucial to consider various aspects to ensure you make an informed decision. Below are the key factors to evaluate:
Purpose and Requirements:
When beginning your search for the best drone for roof and home inspections, it's important to determine the purpose and specific requirements for your inspections. Consider the following factors:
Determine your specific inspection needs:
Assess the type of inspections you will be conducting. Are you primarily capturing images for visual assessment, conducting surveys, or inspecting specific areas for damage? By comprehending your precise needs, you can make an informed choice while choosing a drone equipped with the most suitable features.
Consider the size and type of properties:
Evaluate the size and type of properties you will be inspecting. Are you primarily inspecting residential homes or larger commercial buildings? The size of the properties will impact the required flight range, payload capacity, and maneuverability of the drone.
Flight and Battery life:
Longer flight times grant the opportunity for comprehensive inspections without frequent battery changes or recharging sessions. Therefore, look for a drone with longer battery life or the option for swappable batteries, as this will minimize downtime during inspections.
Range:
The range and signal strength of the drone are important considerations, particularly when inspecting large or tall structures and buildings.
It is essential to ensure that the chosen drone possesses a good range. It will enable you to cover the required distance for your inspections effectively.
Additionally, strong signal transmission capabilities are essential to maintain a reliable connection between the drone and the controller, especially in areas with potential signal interference.
Flight Stability and Maneuverability:
Stable flight and smooth maneuverability are also important for home inspection. GPS capabilities and altitude hold help maintain steady positioning, while obstacle avoidance systems can prevent collisions during inspections. Intelligent flight modes, such as waypoint navigation or follow-me mode, can also be beneficial for capturing specific angles or conducting pre-programmed flights.
Size
Moreover, the size and portability of the drone carry significant weight, particularly if you anticipate the need for transporting it to diverse inspection sites. Compact and foldable drones are convenient for carrying in backpacks or cases, making them easier to transport and deploy when needed.
Evaluate Software and control features:
Assess the control options and software provided by the drone manufacturer. Look for drones that offer user-friendly control interfaces, whether through a dedicated controller or compatibility with mobile devices. Additionally, consider if the drone comes with software that aids in flight planning, data analysis, and image editing, as these features can enhance your inspection workflow.
Weather resistance:
Inspections may involve flying the drone in various environmental conditions. Look for drones built with durable materials that can withstand potential crashes or collisions during inspections. Additionally, drones with weather-resistant features like water and dust resistance ensure reliable performance in different weather conditions.
Top Drones for Roof and Home Inspections
We have searched for the top drones designed for roof and home inspections. These advanced aerial devices have cutting-edge features to ensure safer, more efficient, and more comprehensive assessments of your property's exteriors.
DJI Phantom 4 Pro V2.0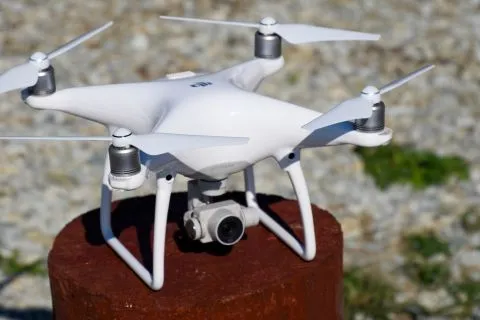 Staff Pick
REASONS TO BUY
✓Good Camera Result
✓Buildin 1080p Display in Controller
✓72 kph Speed
✓Good Battery Time
REASONS TO AVOID
✗Expensive
The DJI Phantom 4 Pro V2.0 is a professional-grade drone suitable for roof and home inspections. It provides exceptionally stable flights and consistent performance which makes it a great choice for roof inspectors and professionals.
This advanced drone has impressive features that deliver stunning image quality and exceptional flight performance.
Camera:
Equipped with a 1-inch 20MP CMOS sensor and a 3-axis motorized gimbal, the Phantom 4 Pro Plus V2.0 captures breathtaking shots with remarkable clarity. Say goodbye to rolling shutter distortion, thanks to its mechanical shutter that ensures smooth and distortion-free images.
With a 5.5-inch 1080p LCD screen in the optional remote controller, you can now easily view your captured images and footage, even under direct sunlight. This convenient feature lets you make quick adjustments and ensures you never miss a perfect shot.
Performance:
The Phantom 4 Pro Plus V2.0 is a true powerhouse regarding flight performance. With a top speed of 72 kph (45 mph), it effortlessly soars through the sky, capturing dynamic aerial footage with precision.
Its impressive 8km (5-mile) transmission range, combined with 1080p live streaming and automatic frequency switching powered by OcuSync 2.0, guarantees a reliable and uninterrupted connection.
Different Intelligent Flight Modes are available with the Phantom 4 Pro Plus V2.0. Features like TapFly, ActiveTrack, Draw mode, and Gesture mode offer intuitive controls and creative options to enhance your flying experience.
With Draw mode, trace your desired flight path on the screen, and the drone will follow that route at a fixed altitude, granting you full control over your aerial journey.
The Intelligent Flight Battery ensures extended flight time, and the charger and power cable keep your drone ready for action.
Also included are four sets of propellers, a gimbal clamp for secure transportation, a 32 G.B. microSD card for storage, a micro USB cable for seamless connectivity, and a durable carrying case to protect your gear on the go.
2. Autel Evo II Pro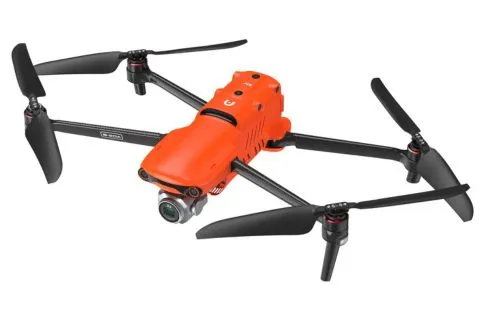 Best Pick
REASONS TO BUY
✓Stable Flight
✓360° Omnidirectional Avidance System
✓6K HDR Video
✓Planty of Flight Features
REASONS TO AVOID
✗Expensive
The Autel Evo II Pro is another top-tier drone that excels in roof and home inspections. It features a high-resolution 6K camera with a 1-inch sensor, providing detailed imagery for thorough inspections.
Designed with powerful features and advanced technology, this drone is tailored to meet the specific needs of professionals in the inspection industry.
Camera
Equipped with a Sony 1″ CMOS sensor capable of capturing 12-bit images and 6K HDR videos, the EVO 2 Pro V3 delivers exceptional image quality that ensures every detail is captured with stunning clarity. Whether inspecting roofs or capturing intricate details of homes, this drone provides the precision and accuracy required for thorough inspections.
Performance:
The EVO 2 drone Rugged Bundle offers enhanced durability, ensuring the drone can withstand the demands of challenging environments. With a 15km H.D. video transmission range, you can stay connected and have a clear view of the inspection site in real-time, even from a distance.
With a flight time of 40 minutes, the EVO 2 Pro V3 provides ample time to complete thorough inspections without interruption. The included 6.4-inch touchscreen smart controller SE offers a user-friendly interface for intuitive operation, making it easy to navigate the drone's features and capture the desired shots.
The Fly More Combo includes extra landing pads and propellers, ensuring you have all the necessary accessories to maximize your productivity on-site.
One of the standout features of the EVO 2 is the Moonlight Algorithm 2.0, which enables the drone to excel in capturing night scenes. With an impressive ISO range of up to 44000, this drone delivers exceptional low-light performance, allowing you to conduct inspections even in dimly lit areas. This feature ensures every detail is noticed, providing comprehensive coverage day or night.
Obstacle Avoidance:
Safety is a top priority, and the EVO 2 Pro V3 prioritizes it with its 360° omnidirectional obstacle-sensing system. This advanced technology allows the drone to detect and avoid obstacles from all directions, ensuring a safe and reliable flight experience. You can focus on your inspections with peace of mind, knowing that the drone will precisely navigate complex environments and avoid potential hazards.
Autel Robotics takes customer satisfaction seriously, offering a no geo-fencing policy that provides freedom and flexibility in flight operations. With 24-hour customer care, you can rely on Autel to provide the assistance you need whenever needed.
3. DJI Mini 3 Pro (DJI RC)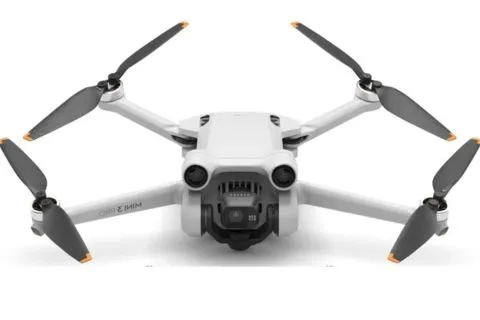 Budget Pick
REASONS TO BUY
✓Lightweight Drone With Good Speed 
✓Tri-Directional Obstacle Sensing
✓Great for Beginners
REASONS TO AVOID
✗Controller Range is Limited
The DJI Mini 3 Pro drone is an exceptional choice for roof and home inspections, catering to professionals and hobbyist pilots. Despite its small and compact design, this drone offers impressive features and capabilities, making it an ideal tool for capturing high-quality aerial footage in inspection scenarios.
Camera
The standout feature of the Mini 3 Pro is its camera. With its 3-axis gimbal and 4K resolution, the camera delivers incredibly detailed and clear images, essential for capturing precise details during inspections. The wide-angle lens further enhances its capabilities, enabling you to capture expansive landscapes or large groups easily.
Performance
Regarding flight performance, the Mini 3 Pro is a breeze to operate. The remote controls of the drone is responsive, allowing you to control and maneuver the drone effortlessly. For added convenience, the drone includes advanced features like obstacle avoidance and automatic return-to-home, providing extra safety and assistance, particularly for new pilots.
This drome has an impressive and improve battery life. With a full charge you can fly up to 31 minutes, you can capture comprehensive footage without interruption.
Additionally, the drone boasts a range of 6.2 miles, allowing you to explore and inspect large areas effectively.
Easy To carry:
The Drone comes with a dedicated carrying case that facilitates easy transportation and weighing only around 249 grams, it is lightweight and convenient for travel and adventure. You can effortlessly bring it to various inspection sites without any hassle.
Verdict:
Overall, the DJI Mini 3 Pro drone surpasses expectations with its excellent features and performance. Its impressive camera, user-friendly controls, extended battery life, and portability make it a top choice for roof and home inspections.
Whether you're a professional or a hobbyist, this drone offers a high-quality and reliable solution for capturing outstanding aerial footage.
4. DJI Mini SE Drone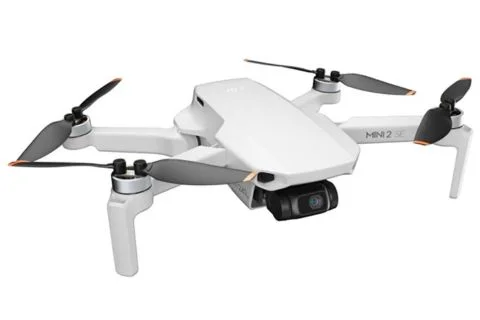 REASONS TO BUY
✓Decent Flight Time
✓Level 5 Wind Resistance
✓30 minutes flight time
REASONS TO AVOID
✗Customer Service is not Good
The DJI Mini SE Drone is an excellent choice for roof and home inspections. This lightweight and compact drone offers exceptional portability and advanced features, making it perfect for creators on the move.
In the United States and Canada, you can fly the drone without registering it with the local government, simplifying the process for pilots. It's a hassle-free experience that lets you focus on capturing stunning footage.
Camera
The Mini SE has a 12MP camera that supports aerial photos and 2.7K H.D. videos. Its 3-axis motorized gimbal ensures superior camera stability, enabling you to capture clear and ultra-smooth footage, crucial for accurate inspections.
Performance
With a flight time of up to 30 minutes on a fully-charged battery, the DJI Mini SE provides more time in the sky than similar consumer drones. You can enjoy extended flight sessions, inspecting roofs and homes thoroughly and capturing impressive aerial shots.
The drone's upgraded wind resistance, capable of withstanding 29-38 kph winds and flying at a maximum altitude of 4,000 meters, ensures stability even in challenging environmental conditions.
The DJI Fly app offers a range of Creator Templates for effortless video editing. With just a tap, beginners and experienced users alike can generate awesome videos, perfect for sharing on social media platforms. It's a user-friendly feature that unleashes your creativity and saves time in post-production.
Drawbacks
Despite its impressive features, it's essential to note that some users have experienced issues with the DJI Fly app, which may affect the overall user experience. The remote controller, in particular, may feel less premium than other models, which might impact user satisfaction.
Verdict:
The DJI Mini SE Drone is a compact and powerful tool for roof and home inspections. Its lightweight design, extended flight time, impressive camera capabilities, and upgraded wind resistance make it a reliable choice for capturing detailed aerial footage.
However, it's important to consider potential issues with the DJI Fly app and the remote controller's perceived quality.
5. Potensic Dreamer Pro 4K GPS Drone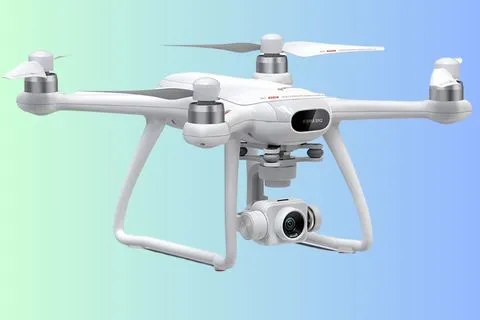 REASONS TO BUY
✓FPV Drone 
✓2KM Transmission Range
✓Auto-Return
✓28mins Flight
REASONS TO AVOID
✗Some customer reported Connectivity issues
The Potensic Dreamer Pro 4K GPS Drone is another excellent choice for contractors, property managers, or roof consultants seeking a reliable aerial tool. This feature-packed drone offers impressive capabilities and intuitive controls to enhance your aerial photography and videography experience.
Camera:
Equipped with a 3-axis gimbal and camera also inclues a SONY CMOS sensor. It can captures stunning 16MP photos and delivers 4K/30fps videos.
The dedicated gimbal ensures stable aerial footage, allowing you to focus on capturing precise details from high in the sky.
With its fast delivery of high-resolution live streams directly from the drone's camera, you can monitor the footage in real time.
Performance:
The drone also includes the notable features like follow me and circle flight. You can enjoy auto return and waypoint flight as well. With its circle flight option you can customize the drone's circular flight direction, speed (1-5m/s), and radius (10-50m), providing a simplified and intuitive flying experience.
With the latest Qualcomm technology, the drone achieves a transmission range of up to 2km by connecting your phone device to the remote control via a USB cable. The 5.8GHz Wi-Fi image reliability ensures stable and high-quality live video transmission, offering an immersive flying experience and a real-time view from the drone's camera.
The Dreamer Pro's powerful performance is attributed to its exclusive PowerAC dynamic system. Within 0.1 seconds, it can burst out triple power, reaching speeds of up to 10m/s and delivering swift responses to various emergencies. Equipped with a robust brushless motor, this 4K drone operates reliably in temperatures ranging from 0°C to 40°C, making it suitable for diverse weather conditions.
Downside:
While the Potensic Dreamer Pro offers several impressive features and a good range of high-quality optics at an affordable price, there are a few drawbacks to consider. Some users have reported fragility issues compared to other drones at lower prices.
Connection problems and stability issues during flight have also been mentioned. So you can review these drawbacks as well before purchase the drone.
Verdict:
The Potensic Dreamer Pro 4K GPS Drone is valuable for contractors, property managers, or roof consultants. Its advanced features, impressive optics, extended range, and responsive controls make it an ideal choice for capturing aerial footage. However, it's important to be aware of this drone's potential fragility and connectivity concerns before making a purchase.
6. Holy Stone HS720 Foldable GPS Drone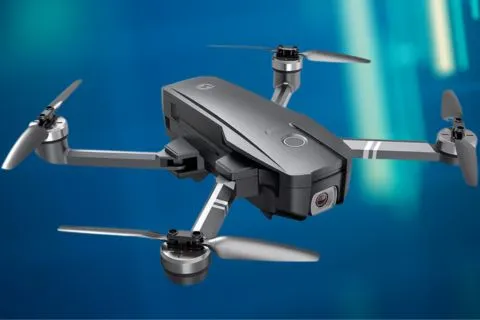 REASONS TO BUY
✓Great Flight Time
✓Affortable Price
✓Includes Carrying Bag
REASONS TO AVOID
✗Some Customers are not satisfied with Camera
✗App and connectivity issues are reported
Introducing the one of best Foldable Holy Stone GPS Drone, a versatile and reliable aerial tool for contractors, property managers, or roof consultants. Packed with impressive features and designed for ease of use, this drone enhances your aerial photography and videography capabilities.
Camera:
With its optimized 4K UHD camera and shock absorption holder, the HS720 ensures vibration-free shooting, capturing high-resolution images and videos at 3840 x 2160. The 5GHz FPV transmission and 90° adjustable lens allow you to view your surroundings from various angles, providing a comprehensive perspective for your inspections.
Performance:
GPS-assisted intelligent flight features make operating the HS720 a breeze. The drone automatically returns whenever the battery is low, and the signal is lost, or with the press of a button. With its array of intelligent flight modes including follow me and circle flight, this drone takes care of the flying tasks, enabling you to fully immerse yourself in your photography and creative process.
The HS720 comes with two intelligent batteries, providing a total flight time of 52 minutes, allowing you to cover extensive areas during inspections. The long-life brushless motors contribute to quieter flights and lower power consumption. Its foldable design and well-fitted carrying case make transporting the drone to different locations easy, ensuring that you're always ready for your next project.
Operating the HS720 is simple, thanks to the multiple sensors that guarantee stable hovering and high-quality shots under different flying environments.
When GPS signals become weak or are lost, Optical Flow Positioning comes to the rescue by ensuring stability. With convenient features like one-key start/stop, emergency stop, altitude hold, and electric fence, even beginners can easily navigate and control the drone.
Advanced controller
Equipped with advanced capabilities, the controller empowers you with a control range of up to 3000 feet, enabling extensive exploration and inspection. The LED screen conveniently shows battery level and GPS signal status, offering vital information at a glance.
Moreover, the controller incorporates a dedicated button to toggle the drone light on or off, catering to the needs of left-handed users with its right-hand throttle mode. Just remember to remove the scratch-proof film from both the controller and camera prior to use.
Downside
While the HS720 has many advantages, it's important to note some reported drawbacks. Some users have experienced issues with battery levels, where sudden drops lead to unexpected crashes. Additionally, a few users have encountered drifting or unresponsive controls during flights. When deciding on a purchase, it is important to take these factors into consideration.
Verdict:
The Holy Stone HS720 Foldable GPS Drone is a reliable tool for contractors, property managers, or roof consultants. Its impressive camera capabilities, intelligent flight modes, extended battery life, and user-friendly controls make it an ideal choice for capturing detailed aerial footage.
However, knowing about potential battery and control issues some users report is important. To maximize the advantages of this drone for inspections, it is essential to make a wise choice that aligns with your specific needs and requirements.
7. Skydio 2 Drone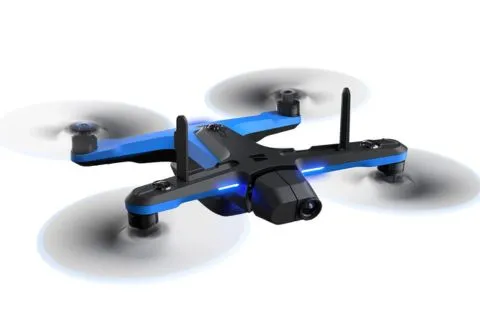 REASONS TO BUY
✓360° Obstacle Avoidance
✓4K60 HDR Camera
✓Extra Propellers
REASONS TO AVOID
✗Expensive
The Skydio 2+ Drone is an extraordinary companion that unleashes your imagination and captures stunning footage. With its advanced features and unparalleled subject-tracking capabilities, this drone empowers you to explore and film in previously impossible ways.
Obstacles Sensor:
The standout feature of the Skydio 2+ is its ability to navigate obstacles easily, thanks to its unparalleled subject-tracking technology. Human piloting skills no longer limited it. This drone effortlessly maneuvers through complex environments to capture shots that were once out of reach.
Performance
One of the unique features of the Skydio 2+ is KeyFrame, which allows you to design custom flight paths effortlessly. Whether visualizing intricate shots or simply needing a second take, this feature ensures precise and repeatable flight paths. With Dynamic Gimbal Roll, you can trust the Skydio 2+ to nail the shot on the first try.
With Skydio Skills, the possibilities for capturing yourself from any angle are endless. You can film yourself even from a backward perspective, opening up new creative opportunities for the ultimate selfie. Switching between different Skills enables you to change the shot on the fly, ensuring you capture every thrilling moment from every possible angle.
Skydio 2+ revolutionizes drone photography by offering an extraordinary experience. With a flight time of 27 minutes, it allows you to capture over 100,000 stunning 4K images to choose from and share. The Panorama image feature takes your photography to new heights, offering live previews of high-resolution panoramic images up to 72 megapixels.
Action sequences become effortless with Skydio's proprietary A.I. software. The drone understands the world around it and predicts your next move, ensuring it captures every thrilling moment.
For cinematic filming, the Keyframe feature offers smooth, precise, and repeatable movie-quality cinematography at your fingertips. It's like having your professional film crew wherever you go, enabling you to capture breathtaking footage anytime and anywhere.
Verdict:
The Skydio 2+ Drone is a game-changer in aerial photography and videography. Its obstacle-avoidance capabilities, customizable flight paths, versatile filming options, and AI-powered tracking offer unparalleled opportunities for creative exploration and capturing awe-inspiring footage. Elevate your adventures and cinematic vision with the Skydio 2+ Drone.
Legal and Regulatory Considerations
It is crucial to have a clear understanding of the legal regulations pertaining to the commercial use of drones. Here are some of the key regulatory considerations in the United States:
The Federal Aviation Administration (FAA) governs the use of drones in the U.S. The FAA requires operators to obtain a Remote Pilot Certificate, or Part 107 certification, for commercial use. It involves passing an aeronautical knowledge test.
In addition to federal regulations, certain states, cities, or municipalities may have their own rules for drone usage. You need to follow these local laws in your area.
Commercial drones weighing between 0.55 and 55 pounds must be registered with the FAA.
Though not mandatory, it is strongly advised to acquire insurance coverage for your drone. It can protect you from accidents or damage caused during drone operations.
Do roofing companies use drones?
Yes, many roofing companies use drones for roof inspections. Drones have become increasingly popular in the roofing industry due to their efficiency, safety, and ability to provide detailed aerial imagery.
Roofing companies utilize drones to conduct inspections and assess the condition of roofs without the need for inspectors to climb onto them physically. By using drones, roofing companies can save time, reduce costs, and improve overall safety for their workers.
Drones equipped with high-resolution cameras and thermal imaging capabilities allow for a thorough examination of roofs, identifying potential issues and facilitating more accurate estimates for repairs or replacements.
Additionally, drones can capture images and videos that can be used for documentation, customer presentations, and insurance purposes. Overall, using drones in the roofing industry has proven valuable for improving efficiency, accuracy, and safety in roof inspections and assessments.
Drones and Thermal Roof Scans
Thermal imaging, known as thermography, has long been a valuable tool in roof inspections. Traditionally, these inspections required handheld devices and often demanded physical roof access. However, drone technology has revolutionized this process, making thermal roof scans more accessible, efficient, and cost-effective.
What are Thermal Roof Scans
Thermal roof scans involve the use of infrared (I.R.) cameras to identify temperature variations across a roof. These variations can reveal hidden issues like water leaks or poor insulation that may not be visible to the naked eye. For instance, areas with trapped moisture will typically retain heat longer than dry areas, appearing warmer in a thermal image.
The Integration of Drones and Thermal Imaging
Modern drones can be equipped with compact, high-resolution thermal cameras, allowing them to perform thermal roof scans from an aerial perspective. We have already shared some drones for thermal images here in this post. This integration offers several distinct advantages: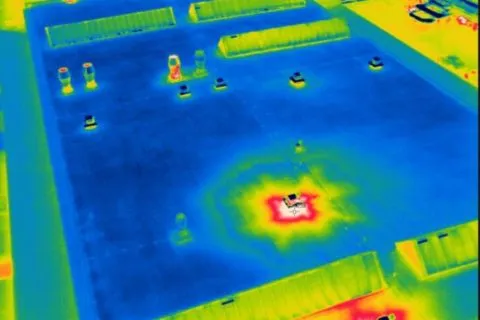 Accessibility and Safety:
Drones significantly reduce the risk of injuries by eliminating the need for inspectors to access the roof physically. Plus, they can easily reach areas that may be difficult or hazardous for a human inspector.
Comprehensive Coverage:
Drones can quickly cover large areas, providing a comprehensive thermal image of the entire roof. This ensures no potential issues are overlooked, which can sometimes happen in manual inspections due to access limitations.
High-Quality Data:
The high-resolution thermal cameras on drones can detect subtle temperature differences, capturing detailed thermal images that can be used to identify and diagnose roof issues.
Efficiency:
Using drones for thermal roof scans can drastically reduce the time taken for an inspection. The enhanced efficiency resulting from this can translate into cost savings by reducing labor hours.
Lowering the Cost of Inspections
By enhancing safety and efficiency, drones can significantly lower the overall cost of thermal roof scans. The reduction in time spent on each inspection allows for a greater volume of inspections in a day, increasing the productivity of the inspection service. Additionally, as drones minimize the need for costly safety equipment and reduce the potential for workplace injuries, they can provide further cost savings.
Practical Limitations of Drone Roof Inspections
While drones have undeniably transformed roof inspections, offering a safer, more efficient, and more comprehensive approach, it's essential to acknowledge that they are only a partial replacement for traditional inspection methods. Despite their impressive capabilities, drones have certain limitations that may necessitate physical inspection in some cases.
Detailed Physical Inspection: Certain aspects of a roof inspection, such as checking sealant adhesion, probing for weak seams, or identifying small blisters, require a tactile approach that drones cannot provide.
Inside Inspections: Drones excel at capturing exterior images but cannot be used for internal inspections. Examining the underside of the roof or inspecting interior structural components for water damage requires physical access.
Structural Assessments: Drones can identify visible surface issues like cracked shingles but are not equipped to assess the structural integrity of a roof or building. Professional knowledge and tools are often necessary for evaluating the roof deck's or joists' stability.
Wind and Weather Conditions: Drones can be affected by wind and adverse weather conditions, limiting their operational effectiveness. High winds can destabilize a drone, while rain, snow, or other weather conditions may prevent drone usage altogether.
Regulatory Limitations: Commercial drone operators must comply with regulatory rules, such as those set by the FAA in the U.S. These rules restrict flying over people, operating at night, or flying in certain airspaces, which can limit the use of drones for roof inspections.
Despite these limitations, drones remain highly valuable in roof inspections. They can conduct preliminary surveys, identify visible issues, and capture high-resolution images for subsequent hands-on inspections. Professionals can perform thorough and effective roof assessments by combining the efficiency and broad coverage of drone inspections with detailed physical analysis.
How to Get Started with Drone Roof Inspections:
Drone roof inspections offer numerous benefits, including enhanced safety, efficiency, and comprehensive data collection. If you have a keen interest in integrating drones into your roofing inspection procedure, following is a comprehensive step-by-step manual to assist you in commencing your journey:
Understand the Regulations:
Familiarize yourself with commercial drone use regulations in your country or region. In the United States, for example, the Federal Aviation Administration (FAA) has specific rules and requirements that you must comply with, including obtaining a Remote Pilot Certificate and registering your drone.
Select the Right Equipment:
Choose a drone model that is suitable for roof inspections. Consider factors such as camera quality, flight stability, battery life, and range. Opt for a drone that offers high-resolution imaging capabilities and features like obstacle avoidance and GPS.
Learn to Fly:
Obtain the necessary skills to operate a drone safely and effectively. This includes learning the basics of drone flight, understanding flight modes and controls, and practicing different maneuvers. Online resources, drone pilot training courses, and simulator software can be valuable tools for learning and improving your piloting skills.
Explore Roof Inspection Software:
There are specialized drone software applications available that can streamline the roof inspection process. These software solutions often provide flight planning, automated image capture, and data analysis features. Research and select a software package that suits your needs and integrates well with your drone.
Pre-Flight Preparation:
Before each inspection:
Make sure your drone is in excellent operational state and has a complete battery charge.
Conduct pre-flight checks, such as verifying the GPS signal and calibrating the drone's sensors.
Plan the flight path and identify any potential obstacles or hazards.
Image Capture and Data Collection:
During the flight, use the drone's camera to capture high-resolution images and videos of the roof. Focus on key areas of interest, such as potential problem spots, damaged sections, or areas that require further investigation. Leverage the capabilities of your drone's software to automate image capture and organize the collected data efficiently.
Post-Flight Analysis:
After the flight, review and analyze the collected data. Utilize software tools to examine the images, identify issues, and annotate areas of concern. This analysis will help you generate comprehensive inspection reports and effectively communicate findings to clients or colleagues.
How to Measure a Roof with a Drone:
Measuring a roof with a drone is crucial to conducting accurate roof inspections. By utilizing aerial imaging and photogrammetry software capabilities, you can streamline the process and obtain precise measurements. Here's a summarized guide on how to measure a roof using a drone: qtext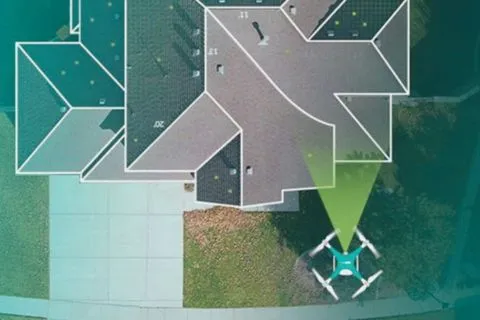 Plan the Flight Path: Determine a flight path that covers the entire roof area, considering any potential obstacles that may affect the drone's movement.
Capture High-Resolution Images: Fly the drone over the roof, capturing high-resolution images with overlapping coverage to ensure accurate image stitching and a comprehensive view of the roof's surface.
Utilize Photogrammetry Software: Process the collected images using photogrammetry software to generate a detailed 3D model of the roof. This model serves as the foundation for accurate measurements.
Take Precise Measurements: Leverage the tools and measurements provided by the photogrammetry software to calculate key roof parameters, including square footage, ridge length, eave length, and roof slope. These measurements are essential for cost estimation, material calculations, and project planning.
By following these steps and harnessing the power of drone technology, you can enhance the efficiency, accuracy, and overall effectiveness of your roof inspections, enabling more informed decision-making in your operations.
Conclusion:
When it comes to conducting roof inspections, the choice of the right drone is crucial for achieving accurate and efficient results.
Out of the leading contenders in the market, three drones distinguish themselves with remarkable features and performance.
The DJI Mini 3 Pro stands apart by providing outstanding portability without sacrificing image quality, thus making it a perfect option for swift and convenient inspections.
The DJI Phantom 4 Pro boasts advanced obstacle avoidance and a powerful camera system, ensuring comprehensive coverage and high-resolution imagery.
Finally, the Autel Robotics EVO 2 PRO V3 stands out with its superior flight time and outstanding video capabilities, providing detailed visuals for thorough roof assessments.
Each of these drones brings unique strengths to the table, allowing users to choose the best option based on their specific needs and requirements. Whether you prioritize portability, advanced features, or extended flight time, these drones will surely enhance the efficiency and accuracy of your roof inspections.