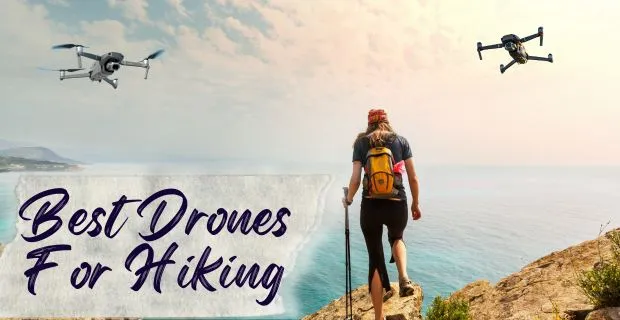 I still think about the time I went hiking and found a secret waterfall in the mountains. The view was so spectacular that I wished I had a way to share it with everyone. And that's when it hit me—what if I had a drone to capture these incredible moments?
Best Drones For Hiking
Let's explore the best drones for hiking in this blog post. I'll share my experiences and guide you through the must-have features to make your hiking trips even more unforgettable. So, buckle up your hiking boots, because we're about to take your outdoor escapades to the next level!
When picking a drone with a camera for your hiking adventures, go for one that's light, safe, and foldable drone which can capture amazing videos. Potensic ATOM, DJI Mini 3, and DJI MAVIC 2 PRO are awesome picks!
They're the best drones to bring along on your hikes! We're going to talk about all this stuff in a way that's easy to get, and we'll tell you about some other cool options too. Let's kick off by figuring out why drones are so cool when you're out hiking.
What is a good drone for hiking?
In this blog, we'll share everything you need to know about choosing the best drone for your hiking and backpacking adventures. We want to help you choose the one that's just right for you. Alright, let's begin the search for the perfect drone for your outdoor fun!
1- DJI Mini 3 Pro Drone Review:
If you're a hiking enthusiast looking for a reliable companion to capture your adventures, the DJI Mini 3 Pro might just be the perfect fit. This drone is simple to set up and fly, making it a great choice for both beginners and experienced users.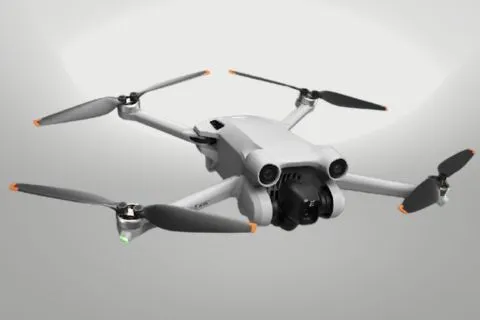 .
REASONS TO BUY
✓Lightweight and Foldable Design
✓4K/60fps Video
✓Impressive Camera
✓Extended Flight Time
REASONS TO AVOID
✗Low internal Memory
It's a one-year-old model, so consider if the latest features are crucial for your needs. While the included controller is lightweight, investing in the DJI RC with an incorporated screen is advisable. Weighing just under 250 grams, this drone is a featherweight champion. It's also foldable, making it incredibly compact for easy portability.
While fantastic, the camera may not match up to drones with larger sensors. Lacks upward and side sensors, so caution is needed in certain scenarios.
Navigate with confidence using obstacle avoidance technology. The controller is integrated with a screen for a seamless flying experience.
Why DJI Mini 3 Pro is Ideal for Hikers:
Perfect for hiking, it won't weigh you down, and its foldable design takes up minimal space. The lightweight batteries allow you to carry extras without adding much load.
Active Track and Follow-me Mode: Enhance your footage with these tracking features.
Obstacle Avoidance: Forward and backward sensing systems help prevent collisions, ensuring a safe flight. Ideal for both photography and filming, capturing your hiking memories in stunning detail. Less worry about changing batteries frequently during your hiking trip.
Verdict:
The DJI Mini 3 Pro stands out as an excellent travel companion for hikers, offering a blend of portability, advanced features, and impressive camera capabilities. Its lightweight design and robust performance make it a top choice for capturing your hiking escapades.
2- DJI MAVIC 2 PRO:
Meet our all-time favorite, the DJI Mavic 2 PRO—an ideal companion for creating professional hiking videos. This drone is light enough to consider bringing along on your hiking adventures, and you even have the option to choose different casings to reduce its overall weight.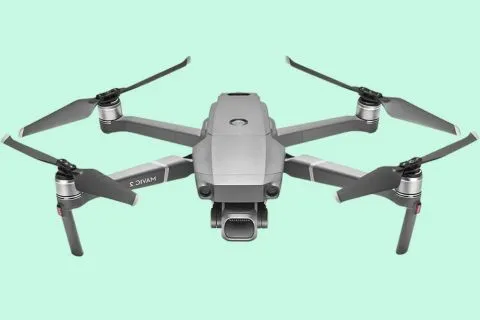 SPECIFICATIONS
Video: | 4K Takeoff Weight: | 907g (2.01 lbs) Flight Time: | 30 min Range: | 8 km
REASONS TO BUY
✓20 MP HD camera with a 1-inch CMOS sensor 
✓3-axis gimbal 
✓top speed of 70 kph
✓Obstacle avoidance sensors
✓8GB of internal storage
REASONS TO AVOID
✗Expensive
✗Large and less portable
Its fantastic camera and special stabilizing system make it just right for people who take really good pictures and videos for a living.
In a nutshell, the DJI Mavic 2 Pro stands out as an excellent choice for hikers seeking top-notch footage, especially for those who don't mind carrying a slightly heavier drone. However, it's worth noting that its higher price and limited control range might be considerations for some hikers.
3- Autel Robotics EVO 2 Pro V3
Introducing the Autel Robotics EVO 2 Pro V3, the 2023 Newest EVO II Pro V3 Rugged Bundle designed for the ultimate hiking experience. This drone comes packed with incredible features, making it a must-have for capturing your outdoor adventures.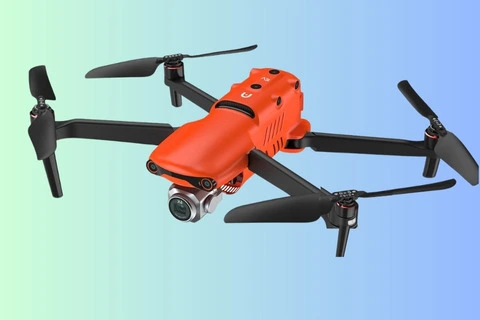 .
REASONS TO BUY
✓Smart Controller SE
✓Cutting-Edge Technology
✓Advanced Obstacle Avoidance
✓Long Flight Time
REASONS TO AVOID
✗Expensive
Autel EVO 2 Pro V3 Drone is like a superhero with super eyes all around! It has special sensors in the front, back, left, right, top, and bottom that use pictures to figure out how far things are. So, if there's something in the way, it starts noticing it from up to 30 meters away. Then, it's like, "Whoa, gotta slow down so I don't bump into anything!"
It has Dynamic Track 2.1 and it's like magic for hikers. It's like having a little wizard on your hike that can predict where obstacles might be and avoid them. And get this—it can keep an eye on up to 64 things at the same time! It's like having a personal tracker that follows you from behind, next to you, or stays in one spot. Cool, right? 🚁🌲
Camera Performance
Equipped with the latest Son-y 1″ CMOS Sensor and 6K HDR Video capability, ensuring stunning visuals that bring your hiking moments to life. With an aperture range from F2.8 to F11, the EVO 2 Pro V3 adapts to different lighting scenarios, providing you with the flexibility to capture the perfect shot.
Extended Image Transmission:
Enjoy a remarkable 15KM image transmission range, ensuring a strong connection between the drone and the controller. The Autel Robotics EVO II 6K camera drone is like a ninja with 12 computer vision sensors, 2 sonar sensors, and 2 LED lights. They work together to make sure the drone doesn't bump into stuff, keeping your flight super safe.
Advanced Obstacle Avoidance:
Benefit from 360° obstacle avoidance, enhancing the safety of your flight and allowing you to navigate challenging terrains with confidence. SkyLink 2.0 ensures freedom in your flight, with no geo-fencing restrictions, giving you the flexibility to explore diverse locations.
👍40-MIN LONG FLIGHT TIME
This drone comes with a strong battery that gives you a fantastic 40 minutes of flying time. That's plenty of time to explore the skies! And guess what? You get two batteries in this bundle, so charge them up, and you're ready for an awesome flying adventure! 🚀🌲
The Fly More Combo, Version 3, includes not only the drone but also two batteries, an extra 64GB SD card, three pairs of propellers, an ND filter set, a landing pad, and a custom lens wipe—a complete package for your hiking drone needs.
Verdict
The Autel Robotics EVO 2 Pro V3 Rugged Bundle is a powerhouse designed for hikers who demand top-tier performance and versatility. With its cutting-edge features and comprehensive bundle, it's ready to elevate your hiking adventures to new heights.
4- Holy Stone HS720E GPS Drone:
The Holy stone drone series is like the middle ground for drone users, and the HS720E is here for those who want to level up their aerial game. This GPS-enabled drone packs a punch with its 4K camera, Sony sensor, and brushless motors, making it a perfect companion for mastering aerial photography. Just a heads up, though—it's not meant for those big, commercial gigs that bring in the big bucks!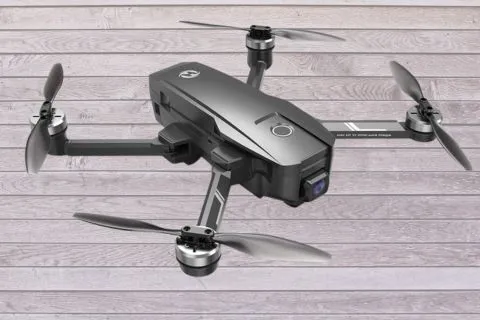 .
REASONS TO BUY
✓Auto return mode for added safety
✓High-quality and stable imaging for impressive aerial shots
✓Double altitude hold for consistent flight heights
✓Supports microSD cards up to 128GB
REASONS TO AVOID
✗Not meant for professional-grade gigs
✗Takes more than 5 hours to go from 0 to 100% charge
It's like having an eye in the sky with pressure and optical flow sensors, keeping the drone hovering steadily. Capture cool slow-mo videos at 1080p/60fps, even without a gimbal, thanks to the helpful EIS technology.
Plan your flight route in advance with smart flight modes, and the LED lights underneath each arm not only look cool but also help with calibration and create a spectacle in the night sky.
It runs on a 2800mAh Li-Pol battery, which is slow to drain, but it takes a bit of time to recharge fully.
Verdict
So, if you're looking for a drone that's great for capturing stunning images and videos during your hiking adventures, the Holy Stone HS720E might just be your perfect match.
5- DJI Mini 2 Quadcopter:
If you're a hiking enthusiast looking to capture stunning aerial moments, the DJI Mini 2 Quadcopter is your go-to choice. This drone, backed by industry leader DJI, offers a fantastic mix of features, making it perfect for both beginners and experienced drone enthusiasts.
Camera
The 12MP camera with 4x zoom and 4K/30fps resolution ensures you capture clear and vibrant shots during your hikes. Watch clear videos from your drone up to 10 kilometers away! This happens because of cool technology that uses a moving camera system for awesome angled shots.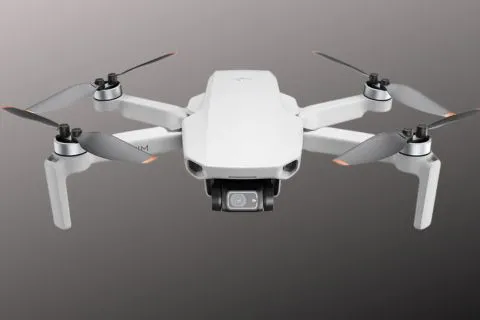 .
REASONS TO BUY
✓Lightweight
✓Outstanding wind resistance
✓Extended battery lifespan
✓Impressive 10km visual transmission range
REASONS TO AVOID
✗Limited performance in low-light scenarios, so keep this in mind for dusk or dawn adventures.
Lightweight and Robust:
Weighing less than 250g, this tiny marvel showcases outstanding performance, handling winds at 20mph with ease. Plus, it's light enough to skip registration requirements in the USA, making drone flying simpler for hikers.
Impressive Altitude:
Reach new heights with a maximum altitude of 4000 meters, allowing you to capture breathtaking views from above.
Fly App:
Enhance your shots and easily share them on the go with the user-friendly Fly app, creating magnificent panoramic masterpieces of your hiking adventures.
Verdict
The DJI Mini 2 Quadcopter is a reliable companion for hikers seeking high-quality aerial photography. Its lightweight design, impressive altitude capabilities, and user-friendly features make it a standout choice for capturing your hiking adventures from a whole new perspective.
6- Potensic ATOM SE Drones:
This drone is a fantastic choice for hiking and it's brand new! And when you're out on a hike, you can try out fun features like Follow Me, Waypoint Flight, and Circle Flight. Connect your phone to the PotensicPro app, and you're all set to fly in circles, follow a set route, or even have the drone follow you around.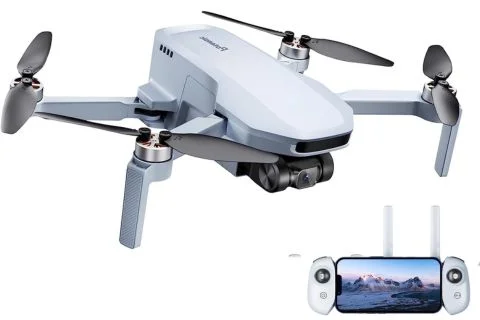 Easy To Use
The drone takes off super fast with its special SurgeFly feature, and this drone can handle windy conditions like a champ. It's so light that you don't even need to register it in the US and Canada!
It's super easy for beginners to use with features like One Key Takeoff/Landing. Simply tap the "take off" button, and the drone goes up about 4 feet, staying right there. If you're just starting, there's also a Beginner Mode to help you learn how to fly it safely. 
Weighing less than 249g, this drone is FAA and Remote ID Regulation-free. Easy to carry in your jacket pocket. Built-in brushless motor ensures stable flying even in wind levels up to 5.
Camera Performance
The camera on this drone is excellent! It takes really clear and detailed pictures, whether you're capturing landscapes or people. The GPS automatic return-to-home feature is awesome—it brings the drone back to where it took off when the battery is low or if it loses signal. This makes flying stress-free and safe.
The 12MP camera shoots impressive images and videos in 4K/30fps. The PixSync 2.0 lets the drone transmit up to 4km, giving you a wider view.
Flying performace and Features:
The drone also has cool features like Follow Me, Waypoint Flight, and Circle Flight to make flying even more fun! It safely auto-flies back to the take-off point when needed, making it easy for all skill levels.
PixSync 2.0 feature ensures stable video transmission in various conditions, with low latency for HD digital video. If the drone loses signal or is running low on power, the GPS return feature safely brings it back to where it took off. 
Verdict
The ATOM SE drone is built tough, withstanding strong winds and coming back to you automatically if it loses signal or the battery is low. So, you can enjoy your flight without worrying about losing the drone. 🚁🌲
What should we know about drones for hiking?
When it comes to drones for hiking, there's a lot to discover! From capturing stunning views to enhancing your hiking experience, these flying gadgets can add a whole new dimension to your outdoor adventures. Alright, let's uncover the secrets of drones and hiking! What's the deal with these cool companions? Time to find out!
Why does this matter when hiking with a drone?
Well, the weight is crucial because you want to be as light as possible during a long hike. Simplicity matters too—you want a drone that can fly right away without a lot of setup. And those avoidance sensors? They're super helpful in navigating tricky areas like forests and trails, so you can avoid crashes.
For an ideal hiking drone, having Active Track or a similar follow-me mode is awesome. It lets the drone follow you, circle around, and capture the best footage of your hike. And wouldn't it be great if the drone had zoom capability to capture different perspectives? Absolutely! Getting the perfect drone for hiking can be a bit tricky since there are so many options. Drones can be expensive, so it's crucial to find one that fits your budget.
In the old days, picking a drone was simple because there weren't many options, but now there are loads of choices. The good news is that many brands offer top-quality drones without the high price. Here are some things to consider if you're thinking of taking a drone on your hiking or backpacking adventure:
Durability:
Look for a drone that can handle rough conditions outdoors, like wind and wild weather. It should be able to fly at higher altitudes since some drones have limits on how high they can go.
A drone that can take a few bumps and scrapes is good, considering it might get a bit scratched during your hiking adventures. A 3-way gimbal is helpful for stability in windy conditions.
While you should never fly a drone in the rain, having a water-resistant drone is a plus. Store it in a water-resistant backpack and check if spare parts like propellers are easy to get.
Weight/Size:
Hikers know every ounce in their packs counts. Get a lightweight drone to make your hiking experience easier. Foldable drones are great because they pack up into a small rectangle, making them easy to carry.
Image Quality:
Choose a drone with excellent image quality. Look for features like HDR for vibrant colors in all situations. Don't get too caught up in megapixels; focus on the image sensor for better quality. For video, aim for at least 1080p HD at 30fps.
Battery Life:
Look for a drone with good battery life, at least 20 minutes per battery. Preferably, go for drones with interchangeable batteries so you can carry spares, especially on overnight hikes.
Follow Me Flying Mode:
If you want those cool action shots of yourself, get a drone with a follow-me mode or active track. This lets the drone follow you as you hike.
Obstacle Avoidance:
For safety, choose a drone with obstacle avoidance, especially if you'll be around rocky terrain, trees, or water. This feature prevents collisions.
Remember these points, and you'll find the perfect drone to capture your hiking adventures without any hassle! 🚁🌄
FAQs
Are drones good for hiking?
Absolutely! Drones can add a whole new dimension to your hiking experience. They capture stunning aerial views, document your journey, and provide a unique perspective of the landscapes you explore. Compact and lightweight drones designed for hiking are readily available, making them an excellent companion for outdoor enthusiasts.
What is the best drone for mountain shots?
The ideal drone for capturing breathtaking mountain shots depends on your specific needs. However, popular choices include the DJI Mavic series, such as the Mavic Air or Mavic 3, known for their excellent camera quality, portability, and advanced features. These drones are well-suited to handle the challenges of mountainous terrain.
Is DJI better than Parrot?
Deciding between DJI and Parrot depends on what you need and what you like.
 DJI is widely recognized for its advanced features, superior camera quality, and extensive drone lineup, making it a popular choice for professional photographers and videographers. Parrot, on the other hand, offers user-friendly options with unique features. Think about how good you are with drones, what you want to use it for, and how much money you have when deciding between these brands.
What drones are used in the forest?
Drones used in forests often require specific features like obstacle avoidance and maneuverability. The DJI Mavic Air 2 and DJI Mini 2 are popular choices due to their compact size, reliable performance, and obstacle avoidance capabilities. These drones can navigate through dense foliage and capture stunning footage in forested environments.
Conclusion 
Picking the right drone for hiking can make your outdoor fun even better! Three great options to consider are the Potensic ATOM, DJI Mini 3, and DJI Mavic 2 Pro, and they each have something special to offer.
The Potensic ATOM is fantastic for beginners and people who love hiking. It's easy to use with features like One Key Takeoff/Landing and Follow Me, and it's tough and durable. Plus, its cool camera, PixSync 2.0 transmission, and ability to handle windy conditions make it perfect for capturing cool moments during your hike.
Then, there's the DJI Mini 3, a super lightweight champ. It's small but powerful, with cool stuff like Active Track and obstacle avoidance, making it perfect for hikers who want a drone that's easy to carry but still packs a punch. Its high-quality camera and user-friendly design make it a top choice for hiking.
If you're after a pro-level drone, check out the DJI Mavic 2 Pro. It's got a Hasselblad camera, a long flight time, and sensors to avoid obstacles. It's a bit heavier, but its amazing camera and sturdy build make it worth it, especially for serious photographers and videographers.
Ultimately, the best drone for your hiking adventures depends on what you're looking for. Whether you go for the easy-to-use Potensic ATOM, the compact DJI Mini 3, or the pro-level DJI Mavic 2 Pro, each drone has its own cool features to make your hiking experience unforgettable. So, pick the one that suits you best, and let your drone capture the beauty of your outdoor escapades! 🏞️🚁